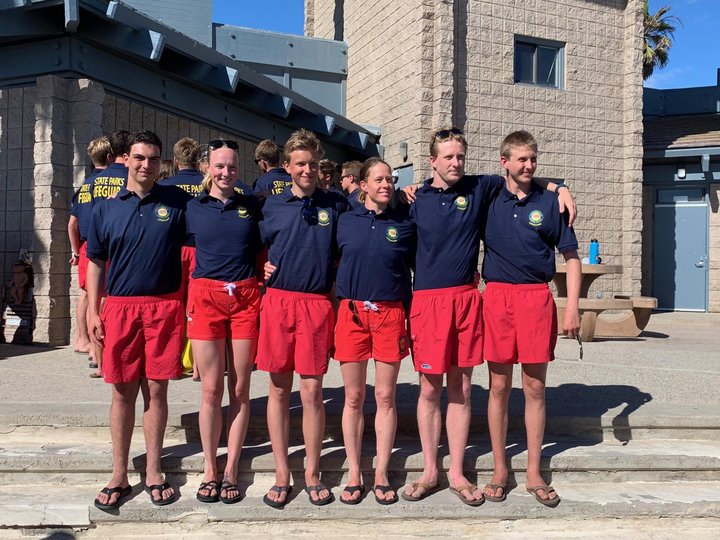 The beaches of the North Coast are extremely beautiful. But their rugged coastline and hazardous wave conditions make them especially dangerous, with people sometimes dying by getting pulled out by the surf.
For a long time our coastline had no lifeguards and, for the past year, only two — State Park Ranger and Aquatic Supervisor Keven Harder and State Park Lifeguard Dillon Cleavenger — who are based out of Patrick's Point and respond to calls between Crescent City and Clam Beach.
Now, six local people are joining Harder and Cleavenger as certified California State Park Lifeguards.
After training for with Harder for months, six individuals — three of whom are only 16 years old — were sent to a state training in Huntington Beach, where they graduated last week with their Seasonal Lifeguard 1 certifications.
These folks will be the first ever "homegrown" state ocean lifeguards from Humboldt, Harder told the Outpost. "I'm super proud of our people. 'Cause this is not easy," he said.
The intensive, eight day and roughly 80-hour program in Huntington beach involves intense physical training, as well as classes in CPR, AED, first aid and aquatic search and rescue techniques. The program is highly exhausting and highly competitive — with many of those who enter getting cut before the time is through.
"The first few days were really hard. I was stressed out and had doubts about my abilities," one of the new lifeguards, Shannon Ingram told the Outpost. "We're under constant observation. Some people kind of panic. But all the experience they give you in the eight days is so incredible."
Ingram had no previous lifeguard experience but has been surfing in California for 17 years. She approached Harder and Cleavenger a few months ago, asking to train with them because she wanted to feel more competent in water safety and responding to emergencies, especially since she has two children. Ingram is excited that the training turned into a new career opportunity for her and she can't wait to start helping improve ocean safety in our area.
But Ingram and the other five lifeguards will not immediately be patrolling the coastline on their own. For the first few years on the job, they will assist Harder and Cleavenger while they continue to gain training in emergency response.

One of the primary jobs of the new lifeguards will be teaching the North Coast Junior Lifeguard Program. Harder helped start the program four years ago and has been thrilled to see its success. Since its inception, the program has grown in popularity each year, now hosting more than 100 kids ages eight to 16 each summer.
But until now Harder had to recruit lifeguards from outside of the area to staff the program. "I was always begging, borrowing and stealing lifeguards from other state programs," Harder said. "Now we have a solution to that."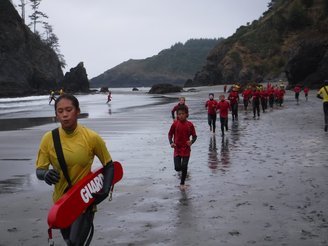 The new lifeguards will also be helping with water safety education programs at some of our local schools. Harder says that State Parks water safety training is now a regular part of the curriculum at Laurel Tree Charter School and Trinidad Elementary and the staff gives presentations at many other local schools as well.
Preventative education is one of the main focuses of the California State Parks Lifeguard program, Harder said, especially in our area. Because of our hazardous ocean conditions, rescues on the north coast are especially dangerous. Sometimes when a person needs a rescue, it is already too late, Harder said.
That is why it is so important to try and prevent rescues from happening in the first place. State Park lifeguards do assist the Coast Guard on water rescues and even respond to car accidents, but they can also provide the service of talking to people on the beach and identifying potentially dangerous situations while people are in the water. Unlike the Coast Guard, who mainly patrol by helicopter, Harper said, the lifeguards have access to the people by the land.

Though there are not enough resources to have lifeguards consistently posted at all of our state beaches, Harper says that once the new lifeguards are ready to be on their own, there should at least be some lifeguard coverage everyday of the year. Harper and Ingrid both hope to see the program continue to grow, so that eventually our area can have more lifeguard presence on the beaches.
"Hopefully it's the start of a change to the whole system we have up here," Ingrid said. "Because the beaches are getting more crowded."
For parents interested in signing up their kids for the Junior Lifeguard Program, sessions begin on July 8 and July 22. You can find more information here.