PREVIOUSLY: Eureka Man Arrested With Huge Arsenal After Attempting to Murder Family, Police Say
# # #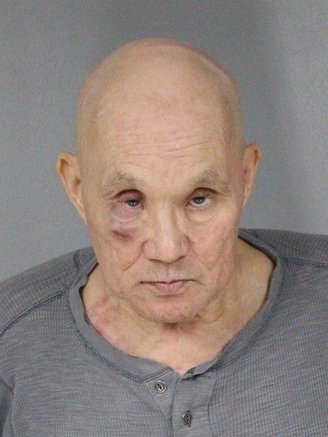 Eureka resident Danny Floyd Waters must stand trial on charges that he tried to kill his brother and threatened to kill his sister during a family altercation March 31 at their Union Street home.
This morning visiting Judge Kay Tsenin, after a 15-minute preliminary hearing, held the 66-year-old Waters to answer on felony charges of attempted murder, making criminal threats and assault with a firearm.
Former EPD Officer Benjamin Omey was the first officer to arrive on the scene and saw Waters and his brother Donald Waters struggling on the living room floor.
"I observed two males on the floor," Omey testified under questioning by Deputy District Attorney Luke Bernthal. "Danny was on top of Donald … Danny was holding a handgun in his right hand."
Omey said he approached the men with his police rifle and pointed it at Danny Waters, ordering him to drop his gun. He had to repeat the command several times before Waters complied.
The officer then spoke with Donald Waters, who told him Danny, an alcoholic, was drinking that day and fell down, knocking over their elderly mother's medication. The two men argued, and as Donald was starting to leave the house Danny "punched him one time in the face,"
Donald pushed Danny, Omey said, and that's when Danny pulled a gun.
"He pulled a firearm from his waistband and pointed it a Donald's face," the officer testified. Donald tackled Danny, and they fell to the floor together.
"(Danny) yelled that he was going to shoot him and kill him," Omey said. At one point the handgun went off, with the bullet taking a chunk out of a brick fireplace in the living room. Later Omey found a bullet casing and a bullet fragment near the fireplace. He described the gun as a "compact 40-caliber semiautomatic handgun."
Danny and Donald's sister, Patricia Waters, told Omey she came out of her bedroom when she heard Donald yell "Patty! He's got his gun out!"
"She kicked Danny in the stomach and tried to pry the gun (out of his hand) and Danny said 'You're next. I'm going to kill you.'"
Waters' attorney, Deputy Public Defender Brie Bennett, asked Omey what Danny Waters told him about the incident.
"He said Donald had assaulted him," Omey said. "I recall him saying it several times."
Danny was too drunk to be fully interviewed, the officer said.
Asked if the gun could have discharged accidentally, Omey said "I do not know."
During arguments after Omey testified, Bennett asked the judge not to hold Waters to answer on the count of attempted murder.
"There's no indication he took direct action," Bennett said. "Danny Waters was attacked and he may have been acting in self-defense."
Bennett said there's also no proof that Danny Waters was the one who fired the gun.
But Bernthal said there was "certainly sufficient evidence" that Danny Waters pulled a gun and threatened to kill both his brother and his sister.
After Waters was arrested, the EPD served a search warrant at the Union Street residence and seized 19 firearms and more than 100 pounds of ammunition. Waters has not been charged with any firearms violations.
Waters' arraignment is scheduled for June 17. He is being held on $750,000 bail.