Warning: This story contains graphic descriptions of the sexual abuse of a child.

###
PREVIOUSLY:
###
A second alleged victim of former Correctional Officer Cory Jordan Fisher Sr. took the witness stand today to describe how his father figure transformed into a terrifying person who ruined the first years of his life.

"He was this monster who just came into our lives and ended up destroying our entire childhood," John Doe Two testified during the third day of Fisher's trial on charges of sexually abusing three children and three Humboldt County Correctional Facility inmates.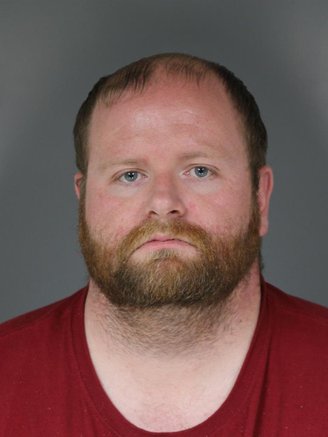 Doe Two's older brother has already told the jury about the years of abuse he endured. John Doe One joined the Army at age 17, never suspecting his younger brother was also a victim.
Doe Two, now 20, was about 7 years old when his mother married Fisher. At first it was "cool," he said, to have a dad who supported his mother financially, and who was "our baseball coach, our basketball coach."
"For a couple of years I experienced how a real family functions," Doe Two said.
But then the abuse began, starting with Fisher fondling the boy's penis.
"How many times?" Deputy District Attorney Stacey Eads asked.
"A lot. I don't know the exact number of times but it was a lot."
Fisher would make him take naps, "and I would wake up and he would be touching me … I told him to stop and he held me down and kept doing it. It progressed to me waking up and he was performing oral sex on my genitals."
On other occasions, Doe Two said, Fisher would "spoon" with him in bed, both of them with no pants on. He would pump against him and once or twice almost penetrated him.
"I felt a really strong pain and I started to cry," Doe Two recalled. "I told him to stop and he just told me to shut up."
He realized Fisher also asked his older brother to lie down with him, he said, but he didn't know his brother was being abused.
"I guess he kind of switched between the two of us," he said.
When Doe Two was past the age of taking naps, he testified, Fisher started giving him "night-time medication" along with some light beer.
"I would just black out all the time and have no recollection," Doe Two said. One time he woke up at 4 a.m., sleeping under his brother's car outside.
Eads asked whether he suspects he was molested during the blackouts, and he said yes. "I just don't know."
In addition to the sexual assaults, he said, there was frequent physical abuse. Fisher would often throw cellphones and remote controls at he and his brother's heads. Asked about the first incident he recalls, Doe Two said Fisher asked him to bring him a soda. But he didn't like the kind of soda he was given.
"He threw the soda at me, hit me in the face and gave me a black eye."
Doe Two learned the passenger seat of the car was a dangerous place to be, because Fisher "would backhand us as hard as he could."
"I've gone through multiple pairs of glasses that were just broken on my face," he said.
The final physical fight occurred on June 25, 2017, when Fisher knocked Doe Two to the ground, punching him in the face with closed fists and choking him.
"My eye was completely swollen shut, my nose was gushing blood and I almost bit a hole through my lip," Doe Two testified.
He went to the bathroom and called his then-girlfriend, telling her to call the police.
At that time Fisher left the house for a few days, going to stay with his mother. In the meantime Doe One, who was stationed in Afghanistan, heard about his younger brother's injuries and called his mother to say Fisher couldn't keep getting away with the abuse. At that time the boys admitted to their mother that Fisher had molested them.
Fisher resigned from his correctional officer job shortly afterward and moved to San Bernardino, where Eureka police arrested him in August 2017.
Doe Two was expected back on the stand this afternoon to be cross-examined by Fisher's attorney, Deputy Conflict Counsel David Lee.