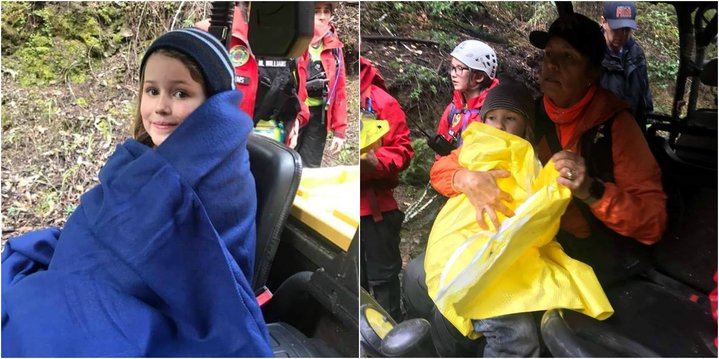 Humboldt County Sheriff's Office press release:

Search and rescue teams have located Caroline and Leia Carrico alive and well, more than 44 hours after they were last seen in Southern Humboldt County.
On March 3, 2019, around 10:30 a.m., searchers Delbert Chumley and Abram Hill from the Piercy Volunteer Fire Department located the two girls approximately 1.4 miles away from their home in Benbow.
Chumley and Hill located boot prints believed to belong to the girls around 8:30 a.m. today, March 3. Those tracks led the team southeast to an area near Richardson Grove State Park.
Caroline and Leia responded when crew members called out to them. The girls were located huddled together under a bush. The sisters were evaluated by medical personnel for dehydration and given water and warm, dry clothing. They were reunited with family shortly after being located. The girls told first responders that they were following a deer trail when they had become lost. The two decided to stay put, drinking fresh water from Huckleberry leaves.

More than 250 personnel from across the state responded to assist in this operation. TheHumboldt County Sheriff's Office would like to thank all of the agencies and jurisdictions involved in bringing Caroline and Leia home safe. We would like to especially thank theGovernor's Office of Emergency Services (Cal OES) for their assistance in coordinating agency response from across the state, the California National Guard for their ground and air support provided, and Mendocino, Napa and Marin counties for helping organize the search and rescue operation.
Agencies involved included:

California Office of Emergency Services

Piercy Volunteer Fire Department

Southern Humboldt Technical Rescue

Humboldt County Sheriff's Search and Rescue Posse

California Highway Patrol

California National Guard

United States Coast Guard

California Department of Fish and Wildlife

Counties represented included:The public tip line established by the Sheriff's Office has now been deactivated.
The Sheriff's Office would also like to thank the public for their overwhelming support during this entire effort. Throughout this process we have received several inquiries from those who wanted to help in the ground search effort. We encourage all who would like to get involved in future searches to consider applying for our Sheriff's Search and Rescue Posse This is a volunteer posse that is deployed to all of our local (and many out of the area) search and rescue operations. Find out how to join here: http://www.humboldtsar.com.