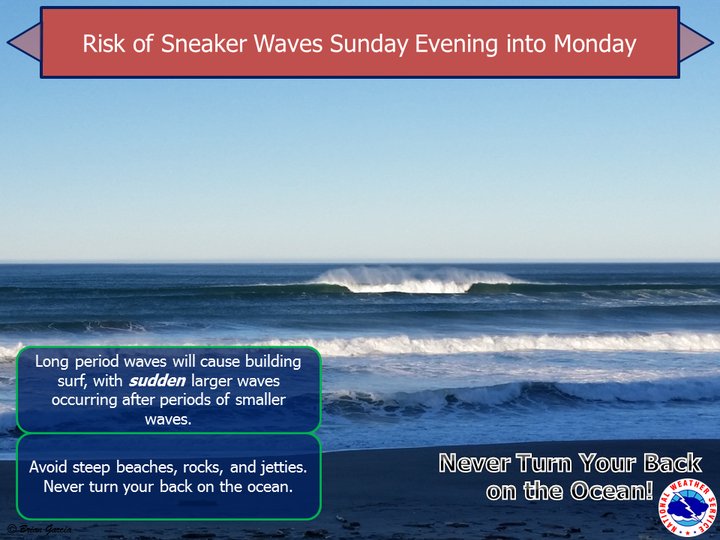 Eureka's National Weather Service Office reports that there will be an increased risk of sneaker waves later today.
"A building long period westerly swell will likely result in an increased threat of sneaker waves Sunday evening into Monday along area beaches," the NWS writes. "Sneaker waves pose a danger to beach goers. Sneaker waves are large waves that seem to come out of nowhere. A sneaker wave can knock you off your feet, and potentially pull you into the ocean where survival is unlikely because of strong currents, turbulent surf, and very cold water. Do not be fooled by an ocean that looks calm. There can be 20 minutes of small waves right before a sneaker wave strikes. Avoid steep beaches, rocks, and jetties. Stay far back from the surf and do not go in after dogs that get pulled into the surf. Dogs almost always get out on their own."

In addition to the sneaker waves, there are some sneaky whales migrating through Humboldt waters.
Local whale watching guide Jason Self sent the Outpost this video of a whale surprising a group of kayakers near Pilot Rock in Trinidad yesterday.
The video, seen below, shows the whale spout feet away from a pair of kayakers before sinking back into the bay.
Video provided by Kayak Trinidad and taken by Kira Jimenez.