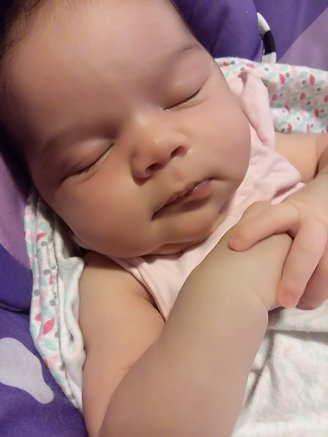 On February 2, 2019 our family was blessed with the birth of our sweet baby girl Amiya Grace to her mommy, Shiloh. Shiloh was so proud to be her mommy. Amiya brought our family so much joy and happiness with her sweet little cry, cute little cheeks, big brown eyes and a head full of beautiful black hair. We were so happy and proud to share all of the pictures of our beautiful baby girl. We were looking forward to seeing her grow and seeing what kind of a young lady she would become.

God had another plan for our sweet girl, and she sadly became our Angel on February 18th, 2019 and flew into open arms of her family that has passed on before her and joined them to watch over all of us. Amiya was only here for a short time but left a huge feeling of love in our hearts when she arrived and took a piece of our hearts when she left. Until we meet again:

Fly high, sweet Amiya "Papaya." We love you and miss you. You will forever be in our hearts.
An Angel wrote in the book of life
my baby's day of birth,
then whispered as she closed the book,
"too beautiful for Earth."
— author unknown
Amiya is survived by her mommy, Shiloh Huffman, Philip Martinez, Brooklyn Martinez (sister), Bryson Martinez (brother), Anthony Perez (brother), Nammy and Papa (Debbie Huffman & Gary Payne), Jimmy Huffman Jr. (Papa), great-grandparents Pat & Mitch Gilbert, Joe & Rae Ann Tomich, Jim and Bev Huffman, great-uncle Joey Tomich (Michelle Jackson, Sydnee Tomich), cousins Kailey & Akira Huffman, aunties and uncles Trisha Huffman (Corinna Stone), Debbie & Nick Calnon, Cindy & Mike Peeples, Scott Foster, Megan Burwell, Ashley Sundquist, Nicole Smith,Cousins Jenni, Wyatt, Sophia, Rylan and Tavin Papstein, Ryan , Keily, Jaelynn Peeples, aunt Laura Maunder and several other aunts, uncles and cousins.
We would like to thank everyone for all of the love, support and prayers during this tragic time in our lives. We would also like to give our sincere thanks to our Lafayette family for all of their love, support and awesome meals provided to us. We love you all.
We would also like to thank Sanders Funeral Home, Humboldt Cremation and Pastor David Groe for all of their kindness care while helping us make some of the hardest decisions we have ever had to make .
Services for our sweet Amiya Grace will be Friday, March 8, 2019 at 3 p.m. at Sanders Funeral Home, 1835 E' Street, Eureka. Pastor David Groe will be officiating the service. A gathering will be held immediately following the service at the Eureka Women's club at 1531 J Street, Eureka.
###
The obituary above was submitted on behalf of Amiya Huffman's family. The Lost Coast Outpost runs obituaries of Humboldt County residents at no charge. See guidelines here.