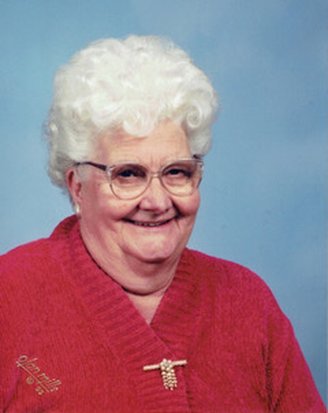 Nellie Hanson was born in Chur, Switzerland on a cold January 19, 1927, and joined her Lord on January 20, 2019, at the age of 92 in Eureka.

When she was only 4 months old, Nellie and her mother Elizabeth Knaus loaded up all their belongings and boarded a Cunard steamship and immigrated to Wetaskiwin, Alberta, Canada at the invitation of Elizabeth's brother Otto.
Nellie grew up on a farm with 3 puppies as her playmates, while her mother worked as a housekeeper for 25¢ an hour to pay for her daughter's upbringing and education. There was no inside plumbing, bathrooms (only a cold outhouse) nor electricity (only oil lamps), but they did have an indoor water pump, if you remembered to keep it primed. They cooked on a wood stove, received heat from a pot-bellied stove and washed clothes in a copper wash boiler. They had not telephone and televisions were unheard of.
As a teenager Nellie babysat while her mother did housework. As the story was told, "My first day on the job as a babysitter for two young children of mother's boss, the brother and sister wanted to go horseback riding. Since they were younger, they got the friendlier horses while I got the friskier one. After a while there were flies around us and the horses did not like being pestered by these flies… Finally, the horses had had enough and up and decided to head back to the barn. My horse was going at a pretty good gallop as we headed towards the barn doors. It looked like the top of the doorway was about at the same height as my head, so I bailed off the horse to spare the anticipated headache. The head was spared, but I landed on my wrist instead and broke it with the bone making a big hump on the back of my wrist, so I wacked it with my other hand and popped it back in place. It was sore for a few weeks and then everything turned out fine."
Nellie graduated the 9th grade from Alexander School in Wetaskiwin, Alberta and then entered the Alberta Business College, graduating in 1943 at age 16. Afterwards Nellie worked for Cockshutt Plow Co., Paragon Supplies and McColl Frontenac during WW II.
The church became an important part of the Knaus family from the time they immigrated to Canada and remained a firm foundation throughout their lives. Nellie went to two churches; the Lutheran Church to learn German and the German Baptist Church to learn English.
The Knaus' moved to Vancouver, British Columbia to be closer to Uncle Otto who had since moved to BC. While in Vancouver Nellie worked as a nurse's aide at the Royal Columbian Training Hospital which was a 30-minute train ride from home. For the next three years they were members of the Missionary Alliance Church until moving to the United States
The Knaus' returned to Edmonton before deciding to again visit Otto Knaus, who now lived in Loleta. The two ladies traveled to Eureka on a visa in 1946. Nellie worked as a telephone operator for the Travelers Hotel and her mother got a job at St. Joseph Hospital as a cook. Things worked out so well for the Knaus', they decided to permanently move to Eureka, returning back to Canada for a year to obtain their permanent visas. During this time Nellie Knaus took a home study course from the Chicago School of Nursing to qualify as a "Trained Practical Nurse." By the time they returned to Eureka in June of 1947, Nellie had completed the course with an average grade of 98%.
Now both Nellie and Elizabeth worked for St. Joseph Hospital; Nellie as a nurse with her mother returning to the kitchen. They soon joined the First Church of the Nazarene. Nellie stayed very active in her church for 71 years. She met Melvin Hanson through a friend at the church and they were married in 1956. Two years later Nellie Hanson became a Naturalized United States Citizen.
Nellie taught Sunday School, helped with children's church, Child Evangelism and also sang in the choir. She became a Caravan leader along with Floyd Hubbard, Leona Holmes and Ronnie Kirkemo when the First Church of the Nazarene started their youth program in the late 1950s. Besides her church, Nellie was active in Grange, Eastern Star, the Humboldt Swiss Club and Runeberg Lodge for several years.
After retiring in 1990, having switched from nursing to bookkeeping for North Shore Orthopedics, she became active with Senior Adult Ministries, Prime Timers for the Faith Center and joined the board of the Eureka Rescue Mission Women's Auxiliary and served as their vice-president in 2017.
In her spare time, she helped with seniors bus trips for the Rogue River Mail boat rides, Snoopy's Ice Follies, Sacramento's Singing Christmas Tree, several gospel concerts, Passion Plays, Reno and even a trip on the Skunk Train to Fort Brag. Nellie and her mother Elizabeth "Granny" Knaus took 5 trips back to Switzerland to see where she was born and to meet relatives.
In the early 1970s, her husband, Mel returned to Iron Work after US Plywood was bought out. He was working in a cofferdam on the new Eureka-Samoa bridge crossing Humboldt Bay when it caved in permanently disabled him. Thus they took up trailer camping for recreation often visiting the Runeberg River Side Campground plus trips to Cave Junction, Oregon. Because of Mel's injuries, Nellie did a lot of the driving. Even though Mel called her a good driver, one time on the way back from Oregon through a construction area, the trailer's tire slipped over the edge of the pavement causing it to flip along with their car demolishing the trailer, but also relieving some of Mel's pain. Somehow, the accident had corrected some pinched nerves along his neck and back returning some movement and strength to his right hand. They were fine and the accident actually did some good. Nellie said God was watching over them.
After living a full life filled with many friends, she passed away peacefully in her sleep on Sunday, January 20 the day after her 92 birthday. Nellie is preceded in death by her mother, Elizabeth Knaus and her husband of 45 years, Melvin Hanson. Nellie is survived by her son Lornell and wife Elaine of Sacramento; grandchildren Kent & Debra Knaus of Washington, Tory Knaus of Oregon, Trudi and Bryan Karr of Missouri and Kelly and Amber Knaus of Lodi, plus many great grandchildren and several cousins in both Switzerland and Canada.
A Celebration of Life will be held next Thursday, March 14, 2019, at the First Church of the Nazarene, Humboldt and 'E' Streets in Eureka at 1 PM. Refreshments will be available afterwards. In lieu of flowers, donations in Nellie's honor may be made to the Eureka Rescue Mission, P. O. Box 76, Eureka, CA 95502 or Hospice of Humboldt, 3327 Timber Fall Court, Eureka, CA 95503. Her guest book may be signed at Sanders Funeral Home.
###
The obituary above was submitted on behalf of Nellie Hanson's family. The Lost Coast Outpost runs obituaries of Humboldt County residents at no charge. See guidelines here.