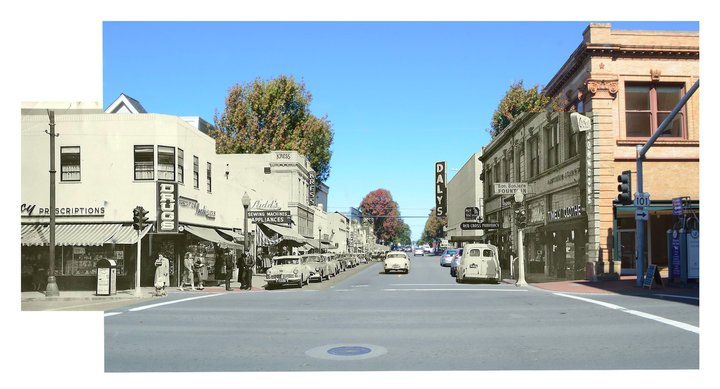 That intersection above may look familiar at a glance, but only true Humboldt County old-timers will recognize those businesses. (Daly's! Bon Boniere! … Red Cross Pharmacy?)
Through a clever and careful matching of lenses and perspective, Humboldt State University students have managed to meld the past with the present for a project called "Humboldt Rephotographed."
Here's more info, courtesy HSU:
Incorporating images from the extensive photography archive housed in the Special Collections at the Humboldt State University Library, these student artworks are experiments in "rephotography."

Blending historic images with contemporary photographs, the collages offer glimpses into Humboldt County's architectural and economic past and present.

Humboldt Rephotographed is a project assigned in ART 395: Art & Place, a course that brings together students from the Art and Environmental Studies departments to examine the ways photography can be used as both a documentary tool and the means for personal expression.

The exhibition is curated by Nicole Jean Hill, HSU Professor of Art. More info at www.sitehumboldt.org.