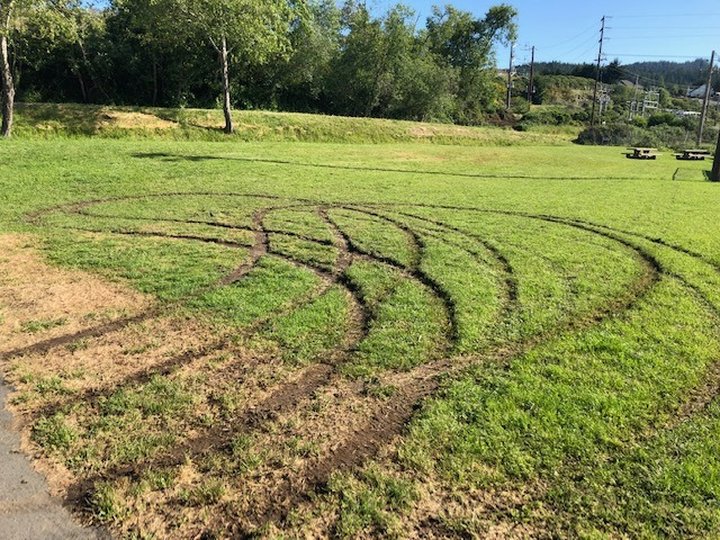 Clench your fists and prepare to shake them disapprovingly, Humboldt.
Fortuna's Newburg Park has some new skid marks thanks to one or more troublemakers who went for a spin in the grass over the weekend.

"There are plenty of places in Humboldt County to legally off-road your vehicles," Fortuna Parks and Recreation shared on social media this morning. "Please don't make your neighborhood parks one of them. Thank you!"
Fortuna Parks and Rec. Director Cameron Mull told the Outpost that this is a fairly common problem for parks departments in Humboldt County. So much so, that the City of Fortuna puts up temporary fencing around this grassy area during the muddy winter months.
"We took [the temporary fencing] down about a month ago, and of course this happens," Mull said. "Eventually we'd like to put up permanent fencing, but due to budget constraints — we'd just wish people would behave themselves at our public parks."
Mull said Fortuna parks do have security cameras, and that his department is hoping to buy more, but unfortunately there are none set up at this exact spot.
"We have security cameras throughout Rohner Park, but they're limited in Newburg park," he said. "We're slowly adding more and more. Had this happened at Rohner Park, we would have easily been able to nab that person."
Off-roading enthusiasts in the Fortuna area don't have to drive far to find some legal spots to tread dirt. The Mad River Ranger District offers six different locations for off-highway vehicles.
At the other end of the bay, there's also the Samoa Dunes Recreation Area, or, for the folks living near Highway 96, there are two off-highway vehicle trails in the Orleans Ranger District.
Happy riding, and stay off the grass you damn kids!