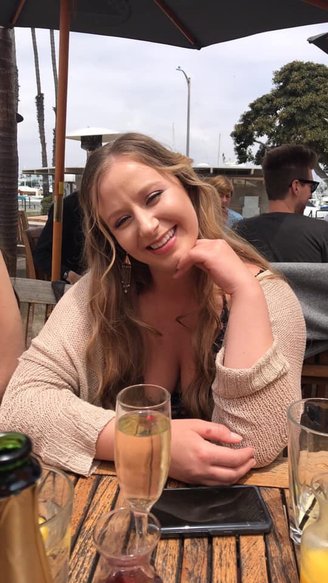 Hannah Rosalie Steinwand born on October 25, 1994 in Sonora and grew up in Bridgeville. She was surrounded by family when she left this world to be an angel in the heavens on May 21, 2019, leaving behind her beloved parents Anna and Bill Steinwand, her siblings Allen and Samantha Steinwand, along with numerous family: aunts and uncles Connie and Chuck Card, Tom Pearson, Mark Steinwand, Stacy Steinwand, Bobby Steinwand, Rodney and Chris Belknap, Cillie and Doug Murphy; her cousins Adam Moore, Lauren Kemmer, Jessie Pearson, Haley and Ariel Card; all of her second cousins too numerous to mention from California to Las Vegas to New Mexico and Michigan. Hannah was preceded in death by Grandpa Bill Sr. Steinwand, Grandpa Bruen Allen Burke, Rosalie and Russel Crago, Uncle Rick Belknap, Aunt Sharon Steinwand and Aunt Sarah Pearson.

While this unexpected tragic event has left us all numb and devastated, it has brought us all closer and has taught us to remember to always keep your loved ones close and hold on tight to them, encompass them in your love and never break those ties for we never know how much time we really have. Hannah was a fierce and mighty protector and was so passionate about taking care of her loved ones, whether family or close friends. She was a true, loyal friend, never to waver and always ready to fight for or stand up for anyone she had love for. Anyone blessed enough to be in her close circle knew how passionate she was and that she would do anything for any one of them.
Hannah was truly a passionate person, a giver, a taker, she waited for no one, she had a huge heart and touched many lives. Having grown up in Bridgeville and spending most of her childhood outside all of her favorite activities were outdoors. She had a huge passion for gardening and wasn't afraid of hard labor. She spent many hours with her hands in the dirt and her beloved dog Lily by her side. She also loved camping with her friends and family at the lake and spending long days bathing in the sun at her favorite river spots.
Hannah had a way with people and had so many close friends. She always made everyone laugh and brought fun and excitement with her everywhere she went. She will truly be missed.
Please come help us Celebrate the Beautiful Life of Hannah on Sunday, June 2 at the Wharfinger Building in Eureka at 1:30-4 p.m.
###
The obituary above was submitted on behalf of Hannah Steinwand's family. The Lost Coast Outpost runs obituaries of Humboldt County residents at no charge. See guidelines here.