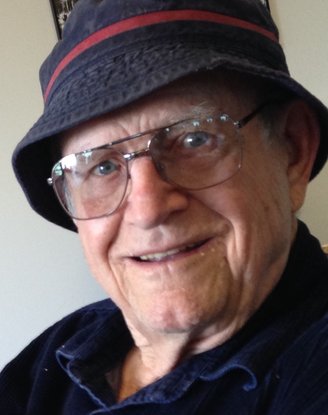 Eugene A. Schnell, Jr
Dec. 31, 1929 - Sept. 25, 2019
Gene left this world at age 89. He was born in San Francisco, on New Year's Eve, in 1929 to Eugene A. Schnell, Sr. and Ruth Mullen Schnell, the first of three sons.
While attending Polytech High School in San Francisco he met his lifelong love, LeAna Starr. They married in 1950, and were married for 68 years until her death in 2018. Gene accepted a position with PG&E, and in 1956 he moved his growing family to Eureka.
Gene and LeAna had five children. Gene quickly became very active in the thriving Eureka community. He was a member in good standing of the Elks, Shriners, the Masons, the Chamber of Commerce and the Kiwanis. In 2005, Gene was awarded by his local Kiwanis club for his 40 years of perfect attendance. In the late '60s and early '70s, Gene was the Executive Director of the Miss Humboldt County Pageant. He was also a member of the Coast Guard Auxiliary, and the Rhododendron Club.
As a young family man Gene was an avid sport fisherman and owned more than enough fishing boats, some of which he leased out to local commercial fishers and crabbers. And hunting was once a passion. He brought home quite a lot of game of all sizes and species that his wife prepared for the family. Somewhere in his mid life he gave up hunting — maybe around the same time that he had rescued and brought home a small herd of orphaned ducklings. Eventually the grown ducks had made a terrible mess of his front yard, so off to the Sequoia Park duck pond for them. He decided that he would never again shoot another animal.
Gene retired from the Land Department of PG&E in 1987. Then he took up the relaxing hobby of canning peaches and pears, for which he won blue ribbons at the fair more than once.
Gene was preceded in death by his wife, LeAna, and a son, Gary. He leaves behind daughters; Laura Anderson of Eugene, Oregon, Ruth Schnell of Eureka, Barbara Principe (Luis) of Las Vegas; son Eugene D. Schnell, of Eureka; grandchildren Sarah, Kate, Marggie, Analee, Robert, Delaney and Louie; also 18 great-grandchildren; and two great-great grandchildren. The family would like to thank Susan Powell and Brent Welch and their staff at Humboldt House Lodge for the loving, compassionate care they provided, and Hospice of Humboldt County.
There will be a celebration of life held at the Lodge at 445 Herrick Ave., Eureka, on Sunday, November 17, from 1:30 p.m. until 4:30 p.m. Please come and visit with the family and with dad's friends, and enjoy refreshments.
###
The obituary above was submitted on behalf of Eugene Schnell's loved ones. The Lost Coast Outpost runs obituaries of Humboldt County residents at no charge. See guidelines here.