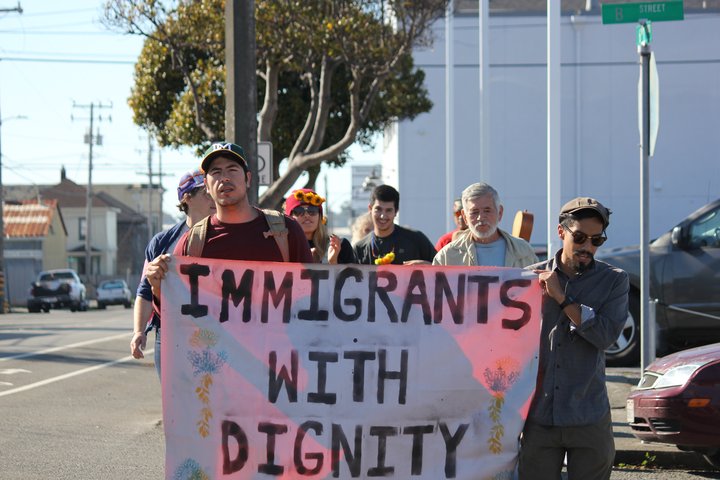 Around 50 people gathered at the St. Joseph Catholic Church in Fortuna at 5:30 a.m. to take part in the second annual Dia de los Muertos Procession. The members of the procession marched the 20 miles to Eureka today to commemorate immigrant relatives and those who have died in the detention centers along the border.
Renee Saucedo, an organizer with Centro del Pueblo, said the procession was also a way to push back against the commercialization of the Mexican holiday.

"We want to honor our dead, especially those in detention centers, those who have died crossing the border and those who were ripped away from their families," Saucedo told the Outpost while marching down 6th Street in Eureka. "The best way we can honor the dead is to continue to fight for human rights today."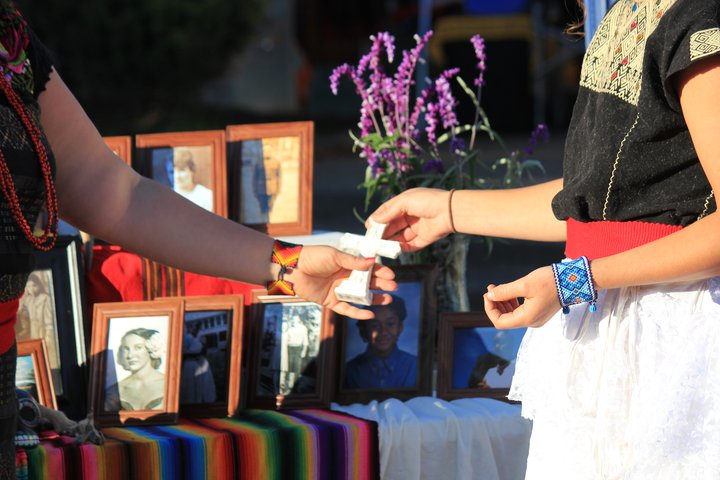 Saucedo said she was marching that day to honor her recently deceased brother, who died about a year and a half ago. Part of the Dia de los Muertos tradition is laying gifts at the altars and graves of deceased loved ones. Saucedo said this includes everything from food and favorite drinks to toys and photos.
"I like to put a little bit of coffee and tequila out for my loved ones," Saucedo said.
Saucedo went on to say that Centro del Pueblo believes the Dia de los Muertos procession is important because it is a way for people of Mexican and Latin American descent to continue to honor their tradition.
"We are delighted that this will go on every year and that it is being led by indigenous people from Latin America," Saucedo said. "We also have indigenous people from the local area and we intend to work in solidarity with them."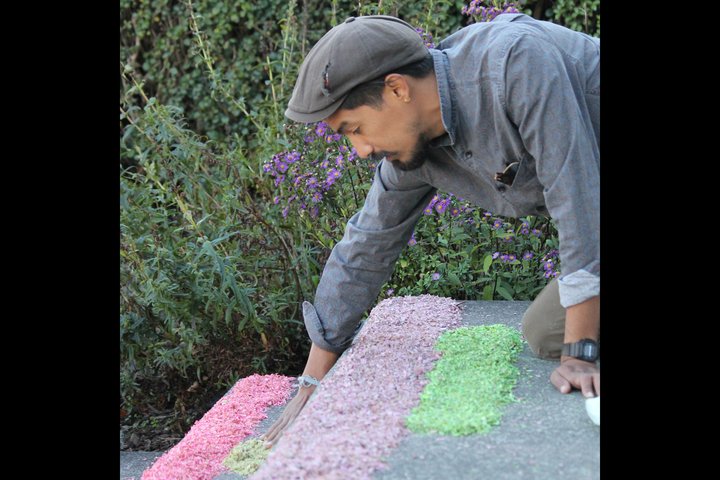 On the steps of the Labor Temple in Eureka, Octavio Acosta laid out a variety of dyed wood chips. He said the color of the chips were significant because they honored the heritage of the Mexican people.
"We are a colorful people," Acosta said. "The chips are nothing permanent and they act as a sign of everybody's impermanence."
Acosta said the Dia de los Muertos event that celebrates the mix of indigenous and European practices.
"It's important to practice your culture, especially in places like this where you experience hate," Acosta said about Humboldt County. "It's important to keep your culture alive."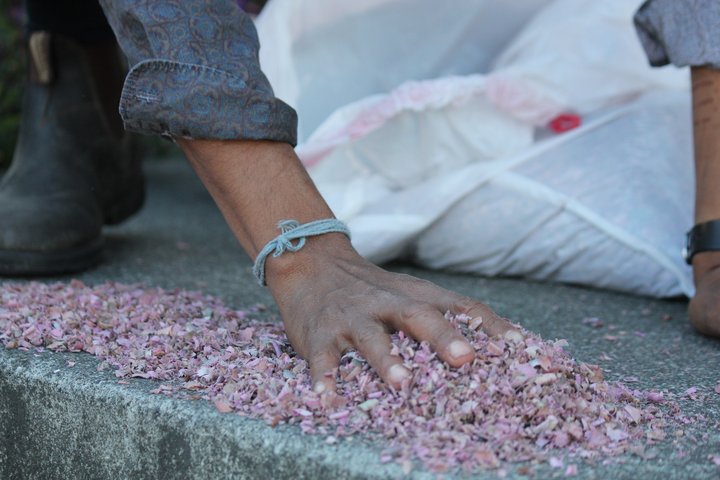 Brenda Perez is also an organizer with Centro del Pueblo and marched in today's procession. Along the way she said the marchers were by a couple of people who chanted "deportation" at them, but she brushed them aside.
"It's always shocking, but the strength of the people that made it from 5 a.m. to this point is what made me think that will change," Perez said. "I'm not going to think about deportation today, even if we are honoring people that are in detention centers. We are not going to be deported today and that is what makes me very happy."
Perez is a guest researcher for Humboldt State's Anthropology department. She moved here three years ago from Chalchicomula, Mexico. She said the Dia de los Muertos procession combines two traditions. The first is the long walk of the procession.
"In Mexico it's a big, big party," Perez said. "The processions are always before sunrise and are our way to be outside and to be with nature."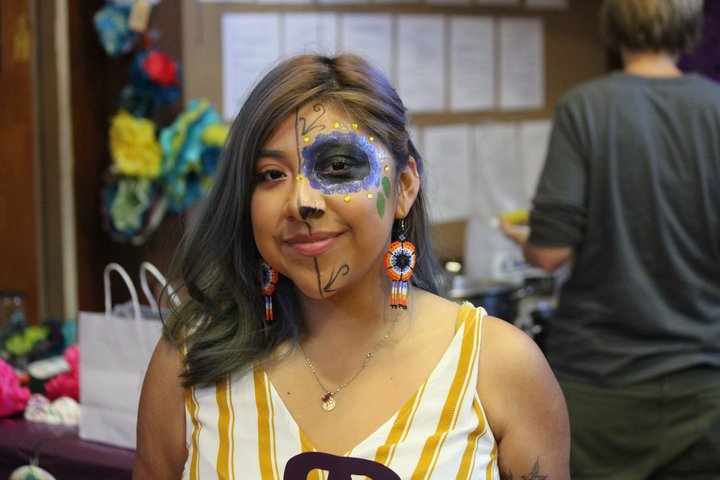 The second tradition is the Dia de los Muertos offerings. Perez said this is a combination of Pagan, Catholic and indigenous traditions. One of the traditions is the making of sugar skulls. Perez said the skulls are a way to commemorate the dead, but to laugh about life as well.
"We make jokes about everything, including the dead," Perez said. "The sugar is like the sweetness of death and how we have one day to gather with all of our family that is gone. And so this event is one that allows us to gather together with all the people that have died."
Dia de los Muertos events will continue this evening with an event at the fountain in Old Town Eureka. From 5-9 p.m tables will be set up commemorating the lives of deceased loved ones while music plays and food is served.