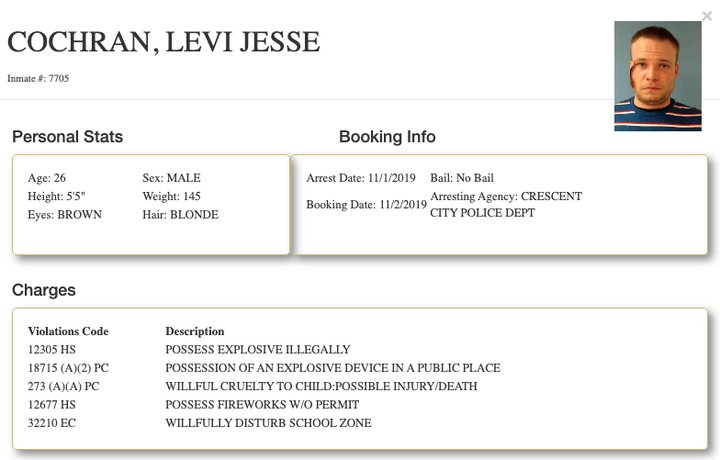 The Crescent City Police Department confirmed with the Outpost that the suspect arrested was 26-year-old Levi Jesse Cochran | Del Norte County Sheriff's Office.
Crescent City Police Department press release:
During the High School Football game on 11-1-2019 there was an aerial explosive firework launched from an area just to the east of the field.

The firework then travelled over the football field and exploded directly over several players. The subject who is suspected to have launched the firework was quickly apprehended by several parents and attendees of the football game.

Crescent City Police Department Officer Yeng Lo was attending the football game as part of his School Resource Officer duties and was immediately able to request a response from other units in the area. The CCPD then worked along with Deputies from the Del Norte County Sheriff's Office to arrest the subject.

The suspect was then booked into custody at the Del Norte County Jail and is still in custody as of 11-2-2019. The investigation is still open and ongoing and the CCPD is working with the Del Norte County District Attorney's Office on this matter.
Video of the aftermath taken by a spectator.