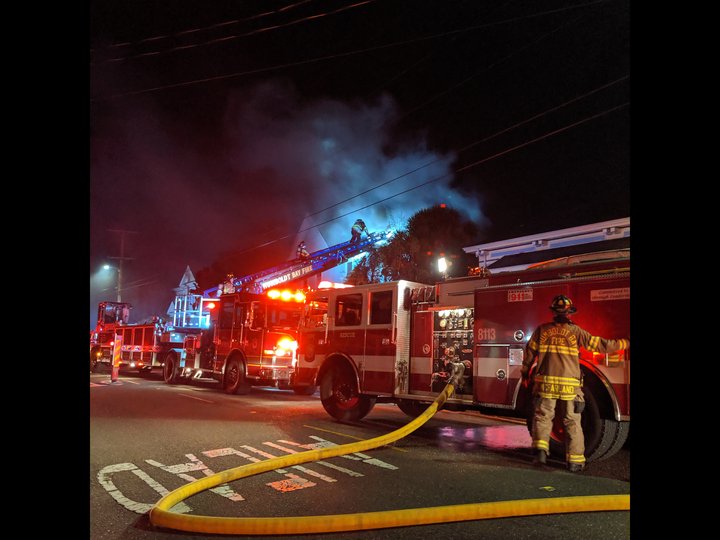 Press release from Humboldt Bay Fire:
Smoke and flames punctured the night as fire grew in a home on the 1000 block of B St late Friday night around 10:30PM.

Humboldt Bay Fire crews arrived to find a working fire. The incident was upgraded to a second alarm, quickly pulling in 4 Fire Engines, 1 Fire Truck, 2 Command Staff, 1 Public Information Officer and Fire Support from Humboldt Bay Fire, as well as 1 Fire Engine from Arcata Fire District.

The only occupant of the home made it out safely along with 2 dogs, leaving the fate of 3 ducks, 1 cat, and 1 turtle to the hands of rescuers inside. The fire had spread quickly from the first floor through the second and into the steep pitch of the attic. A strategic attack of the blaze including venting multiple holes in the roof resulted in fire control and a successful interior attack.

After gaining fire control, crews were able to locate the 3 ducks in the yard, and the cat hiding underneath the home. HBF remains hopeful of locating the turtle, as well. Preliminary damage assessments value the fire loss around $600,000.

The cause of the fire is under investigation at this time. Humboldt Bay Fire would like to thank Arcata Fire District, City Ambulance, PG&E, and HBF Fire Support & Volunteers for assistance on scene, as well as Samoa Peninsula Fire District and Loleta Volunteer Fire Department for coverage.