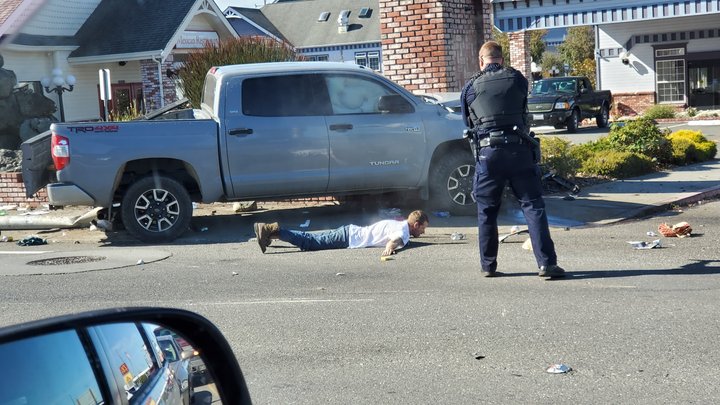 UPDATE, 1:10 p.m.: Eureka Police Chief Steve Watson now has a more complete timeline of events that led to this crash, which he shared with the Outpost and which follow.
The officer was traveling southbound on Broadway near the intersection with Henderson Street when the driver of the pickup passed him at perhaps 60 miles per hour while driving in the center turn lane. The officer attempted a stop, but lost sight of the vehicle due to its high rate of speed.
The next the officer saw of the pickup, it had crashed into the Best Western sign, Watson said.
###
UPDATE, 1:02 p.m.: Watson corrects himself, as regards the statement below: He says that the officer did not flip around to pursue the suspect; rather, the suspect passed him at a high rate of speed.
The occupants of one of the other vehicles involved may have suffered minor injuries, Watson said. They've been take to the hospital to be checked out. The driver of the pickup, he said, will face felony charges.
"This is absolutely unacceptable."
###
UPDATE, 1 p.m.: Eureka Police Chief Steve Watson, who is at the scene, tells the Outpost that the incident began when an officer saw the man driving the pickup driving recklessly. The officer flipped around and started pursuit.
Watson said that the California Highway Patrol will be the lead agency investigating the incident, as it was an EPD officer who initially gave chase.
###
Expect snarled traffic on Broadway for a while, as police clean up after a kind of insane crash involving three vehicles a few moments ago.
Scanner traffic indicates that the incident began as a police pursuit. One person — the person in the above photo, presumably — has been taken into custody.
Multitudes of Eureka police are at the scene. The California Highway Patrol is responding. At least a couple of lanes of Broadway are closed, though traffic is slowly flowing in both directions.
We'll update as we get more information.