A 22-year-old Tennessee man pleaded not guilty today to murdering a man who died 12 days after an officer found him brutally beaten in an Old Town alley.
Deputy Conflict Counsel Meagan O'Connell entered the plea on behalf of Connor O'Neal Whited, charged with killing 55-year-old Brett Alan Keiling, who recently moved to Eureka from Indiana. Whited is charged with murder with use of a deadly weapon, in this case a club.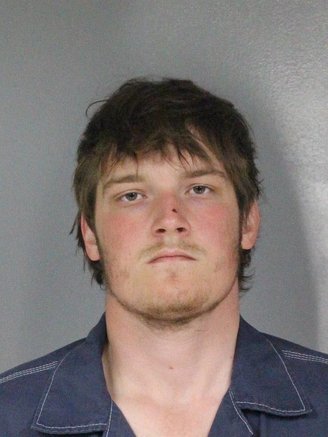 The battered Keiling was found Sept. 26 in Opera Alley and died in the hospital on Oct. 8. His funeral services were held Oct. 18 in his home state of Indiana.
According to the Eureka Police Department, "this was not a random act of violence and Keiling was the intended target of the assault."
This afternoon, at Deputy District Attorney Jessica Acosta's request, Judge Timothy Canning raised Whited's bail from $1 million to $1,015,000.
O'Connell spoke briefly with Whited, who was handcuffed and wore belly and ankle chains. He spoke animatedly, trying as best he could to gesture with his hands.
O'Connell then requested that the district attorney provide discovery, including pictures of the EPD's photo lineup, video surveillance, video from police body cameras, the autopsy report, the victim's rap sheet and the rap sheet of a man named Troy Welsch.
A 45-year-old Eureka resident of that name has a lengthy criminal history, including assault and sex offenses, but it's unclear whether he is the person O'Connell named.
It is clear, however, that Keiling was arrested and convicted many times in Indiana. The most notable offense was in 2011, when the federal government indicted him for threatening to stab an employee of then-Rep. Joe Donnelly. According to news reports, Keiling was found mentally incompetent to stand trial and was hospitalized.
After being involuntarily medicated for several months, Keiling was ruled competent and pleaded guilty as jurors were being selected for his trial. According to an Associated Press story, he faced a maximum term of 10 years in prison but in April 2013 was placed on three years of probation.
Keiling was well-known to both Donnell's office and the FBI in South Bend, Indiana. A local FBI agent said at the time that Keiling called his office once or twice a week. Keiling's father, Roger Keiling, told reporters his son was brilliant but mentally ill, spending up to 18 hours a day on the phone.
"Before I had my phone taken out of my home I had paid long-distance charges to the premier of Israel, Queen Elizabeth, Margaret Thatcher, the FBI, the CIA, the White House," Roger Keiling said. He acknowledged his son had numerous criminal convictions, including for stalking and harassment. But he insisted Brett was harmless, just "annoying."
According to his obituary, published in the South Bend Tribune newspaper, Brett Keiling was a gifted musician who attended Berklee College of Music in Boston for three years. He played the violin, guitar and piano and often performed at churches.
"Brett most recently lived at Apostolic Temple Village, South Bend, before moving to Eureka, CA, a couple months ago," the obituary says.
Keiling's father died several years ago, but he is survived by his 80-year-old mother, Daralyn ''Dar'' Keiling.
"I miss you so much," Daralyn wrote in the obituary. "You were a wonderful son. I love you, Your mother."
Whited's preliminary hearing is scheduled for Nov. 4.
###
PREVIOUSLY: