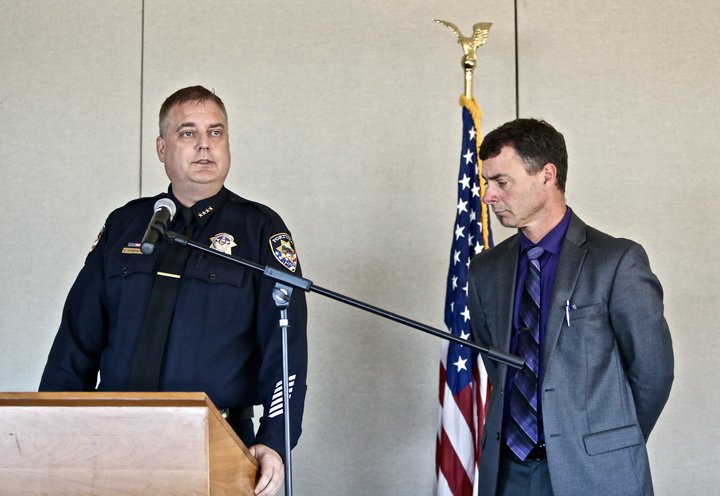 (AUDIO) Joint Fortuna High School/Fortuna Police Department press conference
A few dozen parents and members of the media attended a quickly planned press conference at the Fortuna River Lodge Wednesday. The gathering followed news that a pair of Fortuna High School students had been taken into custody after school administration and law enforcement were alerted to a plan to harm other students.
Fortuna Police Chief Bill Dobberstein stressed that he would be unable to provide many more details than were already divulged in this morning's press release due to his department's current investigation into the incident. He did reveal that the information that led to the two arrests originated from two other students who brought their concerns to administration yesterday afternoon.
"The two individuals who were implicated in this plot were taken into the office," Dobberstein said. "During the investigation we located evidence on their person that was consistent with what was being told to school officials. After some further investigation those two individuals were placed into custody and taken to Juvenile Hall later in the evening."
The students are being held on charges of conspiracy, making terroristic threats and disruption of school.
After the arrests, FPD served search warrants at two residences in Fortuna and Rio Dell where additional evidence was gathered.
Though it's early in the investigation, Dobberstein said he believes the arrested students planned to target numerous others.
"It's a fairly large group of individuals," Dobberstein said, though he opted to not identify them at this time. "Again, I'm not going to get into numbers because that's going to get into the evidence that we obtained and I don't want to taint the case."
Chief Dobberstein said his department is confident that the students already in custody were the only ones involved with the plot.
"We do not feel there is a current threat to the students at Fortuna High School," Dobberstein said.
Fortuna High School Superintendent Glen Senestraro said that the school has contacted the Humboldt County Department of Health and Human Services to inquire about counseling for students and staff that may experience mental strain as a result of the incident. He expressed relief that no one on campus was injured.
"We're just glad that we were able to come to this conclusion," he said.
While some of the parents in attendance expressed frustration with the delay releasing information to the public, most voiced their appreciation for the actions taken by law enforcement and the administration.
Dobberstein said that if any more significant details came to light through the investigation that he would most likely alert the public through a press release.
PREVIOUSLY: Two Fortuna High Students Taken Into Custody For Plotting to Harm Other Students