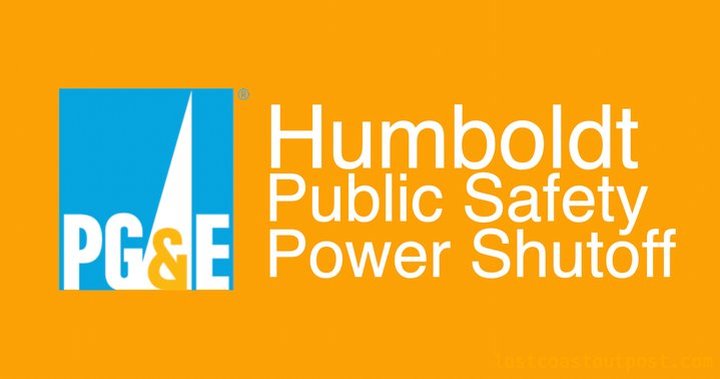 ###
Power is going out again in the middle of the night tonight, according to the county of Humboldt's Office of Emergency Services.
Need to know if your kid's school will be open tomorrow? Check the up-to-date list maintained by the Humboldt County Office of Education at this link. Humboldt State and CR will both be closed.
From the County of Humboldt:
PG&E has begun restoring power to parts of the County, though power may still be out in some places. PG&E advised that the restoration process is taking longer due to infrastructure damage caused by the latest weather event. They are still attempting to restore power to as many residents as possible but cannot provide specific information on when or where that will occur. It is possible that some residents may not have power restored at all before the next weather event prompts PG&E to turn power off again.

The next weather event is currently scheduled for 6 am on Tuesday (10-29-2019) morning. The power will be turned off several hours prior to that time. PG&E expects the weather "All clear" time to be Wednesday afternoon. These times are estimates provided by PG&E and are subject to change. Humboldt County Office of Emergency Services will provide updates as we get them.

A reminder to those who have had their power temporarily restored, use the time wisely to prepare for the next outage. If you are out and about restocking and resupplying, please be courteous to others as most everyone has been impacted by these PSPS events.

The National Weather Service in Eureka forecasts temperatures will be in the 30's and 40's overnight, and we encourage residents to continue to use caution when operating generators and using indoor heating devices.

Use caution when driving, as many of the traffic signals are not operational. Treat all nonoperational traffic signal intersections as a four way stop. Avoid driving if possible. If you must drive, keep an eye out for pedestrians and hazards on roadways.

Information on school closures countywide is available on the Humboldt County Office of Educations Facebook page, or contact your school district. For information on Community Resource Centers and other up-to-date info, follow the Humboldt County Office of Emergency Services Facebook page. Facebook.com/HumboldtCountyOES

Additional information will be released as it becomes available. To learn more about PSPS, go to pge.com/prepareforpowerdown or by calling 1-877-9000-PGE. Sign up to receive location-specific emergency information through Humboldt ALERTs at humboldtgov.org/alerts.