On September 29, 2019 Linda Marie Fiester (Oscar), a tribal elder of Bear River Rohnerville Rancheria Band and the Yurok tribe, passed away at the young age of 57 surrounded by loved ones.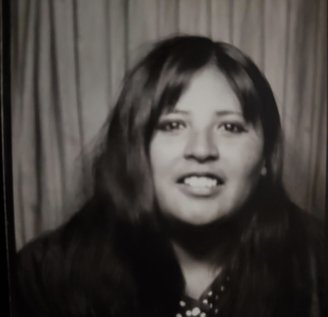 Linda was born July 17, 1962 to Jerry Oscar II and Harriet Elaine Thomas (Shorty). She was the youngest of three children.
Linda was a life long resident of Humboldt and Del Norte counties where she met her life long partner and they raised their family. Linda worked at several different jobs: seasonal worker for lily bulb farms in Smith River, seasonal work at fisheries, at Elk Valley Casino as a porter, and at Bear River as a driver and maintenance worker.
She enjoyed going to tribal gatherings and pretty much anywhere they were having a party where she could enjoy herself with music, dancing and bullshitting. LOL. You would always see her smiling and talking with everyone. But if she had something to say she would not hesitate to speak her mind and make sure whoever knew. She was a very protective mother to her daughters and protective of her husband. She is a very unique woman who will be missed by many but especially the ones who were part of her life everyday.
She was proceeded in death by both her mother and father and brother and all her ancestors.
She is survived by her husband of 50 years John Fiester, Jr., two daughters — Shalisa Anne Fiester and Ann Marie Fiester — one boy dog, Marley, her eldest brother Jerry Oscar III, and seven grandchildren.
Jessica Elaine, Tricia Marie, Geraldine Ann, Shaleena Faye, Da'-ltshun Cyrus, Johnny Ray, and Ethen Hawk, and 11 great grandchildren Harmony, Olivia, Brenda, Jon Jon, Kailey, Terry, Robert, Michael and Tory, Lucas, and Madison and numerous nieces and nephews Brenda, Bonnie, Dennis, Patrick, and Rose with great nieces and nephews Ralph, Sabrina, Aubrey, Brittany, Seeley, Edward, Destiny, Dennis, Dwayne, Victor, Ta-teth, Cienna, Charlene, Christine, Cathy, Christopher, Connie, Robert Jr., Andrew, Robert,- Belinda, Brandy, Becky, Cassia, Skye, Ayana,- Kiawne, Izaak, Kayla, Asha, lets not forget all the spouses of her family and on and on.
There will be a memorial service for her at Goble's Mortuary in Fortuna on Monday October 7, 2019 at 2 p.m. following a celebration of life with dinner and music and dancing i know she will be excited to party with her family and friends, so come celebrate her life, everyone is welcome.