My selfie birthday present this year was modeling nude for a drawing class. I still can't decide why I wanted to do it. Defiance? (Who exposes all at 77? —they told me I was their oldest model ever.) Vulnerability? (Nothing to hide, nothing to be ashamed of.) Playfulness? (Keeping my silly streak alive). Whatever, it was fun, and doubly so because I convinced Louisa to join me for the evening. She now holds the record as their oldest female model, at 68.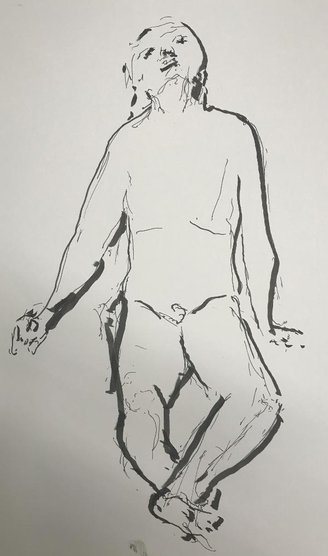 I broke the nudity barrier when I was 19 and an engineering student at the University of London. I'd signed on for a two-month summer student international exchange program. My destination country was assigned, not chosen, and I was thrilled to be going to Finland, especially as it involved a cruise from London to Helsinki through the Baltic Sea on a small Soviet passenger boat.
My host engineer in the Finnish Ministry of Works in Mikkeli, Eero Tiensuu, invited me to spend my first weekend there at his family's lakeside summer home. After dinner in the long summer twilight, he announced we'd be going to the sauna. I said I'd get my bathing suit. "No need for that," he said, laughing. "This is Finland!"
We—mom, dad, three sons ranging from 6 to 12, a 14-year-old daughter, and one very nervous Brit—trooped down to the lake where the pine sauna sat at the water's edge. I tried to act cool as everyone stripped off in the little anteroom before going into the sauna proper. For this kid at that age in that era, we're talking about a quantum leap. "Problem?" asked Mr. Tiensuu. "No, I'm fine," I stammered as I clambered awkwardly out of my clothes. Inside, I sat on a bench with the boys facing mom, dad and daughter, trying not to look. Or at least trying to make it appear like I wasn't looking. Until then, nudity and sex were practically one and the same thing for me.
Sometime in the next 30 minutes or so the magic happened: I relaxed; I was OK. This was about a family who had kindly invited their guest along, enjoying the old Finnish custom of hanging out in a sauna, interspersed with dips in the chilly lake and whacking each other on the back with fresh-cut birch shoots. (I never felt so clean!) For them it was probably as casual as having a cup of coffee together in the living room. Later in life, I taught figure photography workshops, strolled on nude beaches and learned how to massage naked bodies without awkwardness. But that one liberating sauna experience was the turning-point.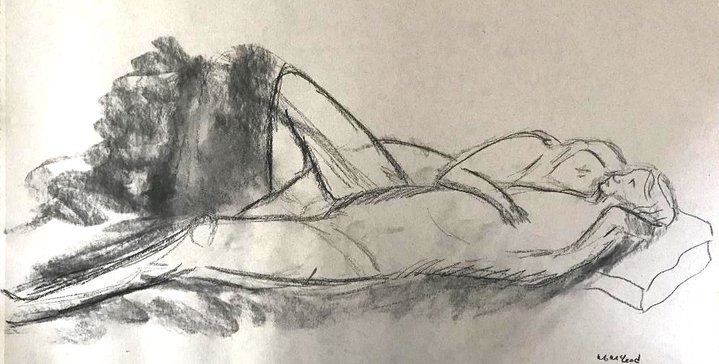 Yesterday evening, I thought of that long-ago event as I posed naked in front of a few folks earnestly drawing in their sketch pads for the one, five, ten and finally 20-minute poses. Afterwards I admired their work, awed by their ability to transpose this five-foot-seven three-dimensional living being onto flat surfaces one quarter my size. And, truth be told, I felt a little proud. This was me, warts and all, that they'd captured: not too bad for 28 thousand days of life on Earth.
And the ultimate compliment as we were leaving two hours later: "Can you come back?"