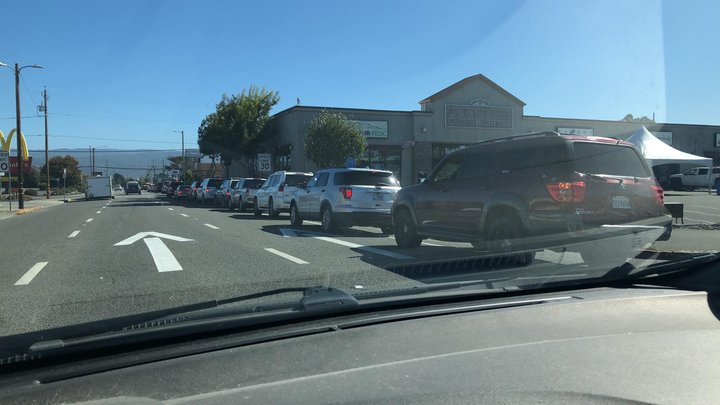 The Outpost has been communicating with various sources from around Humboldt County to keep you updated on what the heck is going on around town today.

PG&E spokesperson Deanna Contreras told the Outpost via email that roughly 513,000 customers are without power across Northern California at the moment. That includes customers in Humboldt, Amador, Butte, Calaveras, Colusa, El Dorado, Glenn, Lake, Marin, Mendocino, Napa, Nevada, Placer, Plumas, Shasta, Sierra, Solano, Sonoma, Tehama, Trinity, Yolo and Yuba counties.
Areas of Mendocino, Alameda, Alpine, Calaveras, Contra Costa, Mariposa, San Joaquin, San Mateo, Santa Clara, Santa Cruz, Stanislaus and Tuolumne Counties that still have power will also go dark tomorrow afternoon, as part of PG&E's scheduled second round of "Public Safety Power Shutoffs."
The Outpost's Ryan Burns Chats With HBF's Chris Emmons.
Eureka City Clerk Pam Powell and Humboldt Bay Fire's Chris Emmons informed us that officials are actively working to provide the public with the latest information.
Powell said that there's a mass PG&E conference going on right now that should allow government agencies to provide the public with better inform when the call is finished over.
As of now, we know a community resource center will open in Eureka tomorrow at Redwood Acres Fairgrounds at 8 a.m.
The Outpost also caught up with Arcata City Manager Karen Diemer on the Plaza today. Diemer said there's still no update on when the power is expected to be restored.
"We are hoping to get an update out by 1:30 p.m.," Diemer said. "At this point we are telling people to hold out for a few more days."
The city is also asking residents with septic or pressure sewer systems to conserve water and closely monitor the water in their sewer holding tanks to prevent overflow, as frequent flushing or water use can cause the system to overflow if left unchecked.
"We appreciate our community's resiliency and their ability to move forward," Diemer said.
The Outpost reached Hoopa Fire and Office of Emergency Services Chief Rod Mendes minutes ago by phone to find out how Eastern Humboldt is holding up. Mendes said that he was also taking part in the PG&E conference call and promised to call the Outpost back when he had a chance.
We will update as soon as more more information is available.