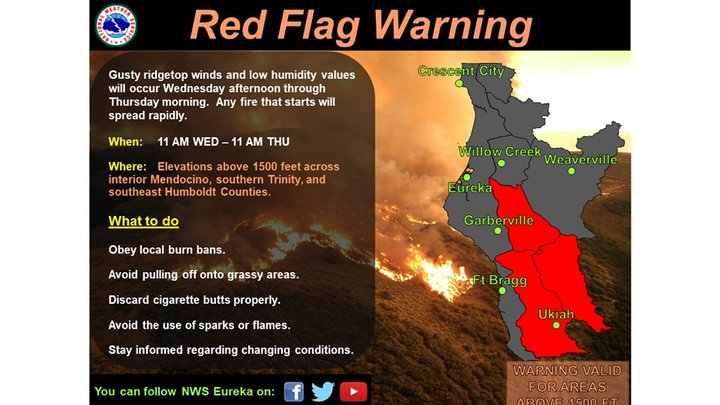 Exciting news, kinda!
Eureka City Manager Greg Sparks told the Outpost minutes ago that he just wrapped up a big conference call with PG&E, which said that Humboldt's power could be switched back on as early as today. However, there are a lot of factors at play.

The wind storm that prompted PG&E to cut power to hundreds of thousands of customers across the state is reportedly moving from north to south at the moment. Humboldt is at the northernmost end of that storm, which means that we will likely be one of the first counties to have its power restored.
However, officials don't know exactly when the winds will die down. If the winds subside with at least two hours to spare before sunset, Sparks said that PG&E could restore power as soon as today — but you probably shouldn't count on it.
The reason? Before Humboldt's power can be turned back on, PG&E has to fly over the lines and ensure they are not damaged, which will take about an hour if everything checks out.
If PG&E is unable to check the lines before sundown, Sparks said the power likely won't be restored until tomorrow at the very least.
We'll continue to post updates as we learn more.
Read more in the latest press release from the County of Humboldt:
As of 3 p.m. on Wednesday, Oct. 9, most or all Humboldt County residents remain without power after Pacific Gas & Electric (PG&E) shut off power early this morning as part of a planned Public Safety Power Shutoff (PSPS) that originated in another county.

PG&E continues to work on restoration. The Humboldt County Sheriff's Office of Emergency Services (Sheriff's OES) will provide updated information from the utility as it becomes available. The length of the outage and estimated time of restoration is entirely up to PG&E. For information about PSPS or to sign up for alerts, go to prepareforpowerdown.com or call 1-877-9000-PGE.

Sheriff's OES is focused primarily on public safety at this time. 911 emergency dispatch continues to operate and respond to those experiencing life-threatening emergencies. Please do not call 911 for information about the power outage.

PG&E is planning to open a Community Resource Center (CRC) at Redwood Acres Fairgrounds at 8 a.m. on Thursday, Oct. 10. The CRC is expected to have air conditioning, water and power stations for community residents to charge medical devices and phones. PG&E is no longer planning to open a CRC at College of the Redwoods as previously reported.

A "Medical Device Charging Station" is open at the Humboldt Bay Fire Training Classroom at 3030 L St. in Eureka and will close at 6 p.m. tonight and is currently not scheduled to reopen. This is not an evacuation shelter. Residents who rely on electronic medical devices should utilize the charging stations to ensure portable batteries have enough charge to last through the night at home. If you are experiencing a life-threatening emergency, call 911.

Some traffic signals in cities and along the highway may not be operating at all. Slow down, and treat every signal as a stop sign. Avoid traveling on roadways if possible.

Residents should prepare to be without power overnight. Home heating and lighting can be dangerous if not used with care. Use flashlights if possible. If you use candles, make sure they're attended at all times. For those using generator power, make sure they are well-ventilated and exercise care when refueling. Make sure portable heaters are appropriate for indoor use and attended at all times. Be alert for chimney fires if using a wood stove, and exercise care when lighting a gas top range.

The county is continuing to exercise its Continuity of Operations Plan and is planning to have only essential functions operate again tomorrow. County employees should contact their supervisors to see if they need to report to work in their normal capacity or serve as Disaster Service Workers as dozens did today.

Many county facilities, schools and businesses have been impacted by PG&E's power shutoff. Follow facebook.com/HumboldtCountyOES for a partial list of available county services, gas stations and grocery stores. Check with your child's school district or follow the Humboldt County Office of Education on Facebook for information about school closures.