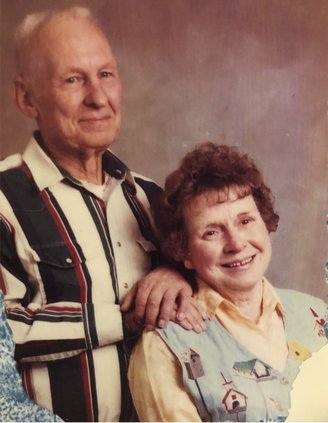 Joyce Burrows Smith was born at home on Jan. 12, 1928 in Chrome, California. She went home to be with her Lord on Aug. 28, 2019 in Garberville.

Joyce was born into a pioneer family who traveled here in the 1850s. She grew up in the small town of Chrome, and went to Chrome Elementary and Elk Creek High School in Elk Creek, California. She always told stories of her childhood in Chrome with her parents Otto Burrows and Ethel Cushman-Burrows and her siblings Gerald, Lois, and Hollis. Throughout her life she stayed very close with her siblings and their families.
After high school she met the love of her life, Glenn. They married in 1947 and moved to Harris, California in Humboldt County. While living in Harris she had two sons, David and Steven. When her youngest was two her husband got a job as a line man, and they traveled in a travel trailer for the next three years as her husband built power lines.
They finally put down roots in Happy Valley, California where they stayed for the next 20 years raising their sons.
In 1968 they returned to her husband's home of Humboldt County where their dream of being full-time cattle ranchers became a reality. They lived on the Wagner Ranch for seven years, and moved to the Kinsey Ranch in Benbow in 1975.
Joyce got an outside job at Brown's Sporting Goods in Garberville, where she worked for 10 years. She loved her customers and her job, and through the job developed several close life long friendships.
She started attending Weott Christian Church in 1969 and was an active member for the next 43 years. Her faith was an integral part of her life that she shared with her family. She made sure that each of her grandchildren was taught about the Lord and attended church with her. Joyce loved being a wife, a mother and a grandmother. She had 10 grandchildren, 25 great-grandchildren and 6 great-great-grandchildren. She loved telling people about how many grandchildren she had.
Joyce is survived by her sisters Lois Silver and Hollis Spurlock, her sons David (Teresa) and Steven (Mary), and her grandchildren Sherry, Michael (Jennifer), Michelle (David), Tommy, Cory, Lon E., Summer, Jessie (Brandy), Wade (Lauren) and Darby. She is also survived by her great-grandchildren Megan, Cory, Kevin (Britney), Mathew (Chelsie), Trisha (Sea), Everette (Austin), TJ(Natalie), Cody, Rebecca (Alex), Kyle, Wyatt, Sarah, Aaron, Rylan, Kylie, Austin, Caleb, Chloe, Kinnidy, Calleigh, Harper, Korbin, Kimber, Havoc, and Ayden, and great-great grandchildren Jaxon, Liam, Elliana, Aria, Briar, and Brooklyn, as well as many nieces and nephews.
Throughout her lifetime she made many wonderful friends whom she spoke of highly. Among her many cherished friends were Charlie And Jeannie Thorp, Bob and Val Stansberry (cousins), Rhonda Hardy, Ruthie Kirkpatrick, Bear Gratzel, and Del Hawks.
Joyce was an amazing lady. She was the center of her family and will be missed immensely.
Joyce was proceeded in death by her parents, Otto and Ethel Burrows, grandparents Pud and Minnie Burrows and Lester and Hattie Cushman, and her husband of 55 years, Glenn Smith, brother Gerald Burrows.
Pallbearers: Bob Stansberry, Tommy Smith, Michael Smith, Wade Smith, Matthew Harrison, and Kevin Harrison. Honorary Pallbearers: Joe Conley, Dick Drewry, Martin Burrows, and Oral Whitlow.
Please join her family for graveside services Sept. 21 at 11 a.m. at the family cemetery in Harris. A reception will follow at the Redwood Play House in Garberville.
In lieu of flowers, please donate to you favorite local church.
###
The obituary above was submitted on behalf of Joyce's family. The Lost Coast Outpost runs obituaries of Humboldt County residents at no charge. See guidelines here.