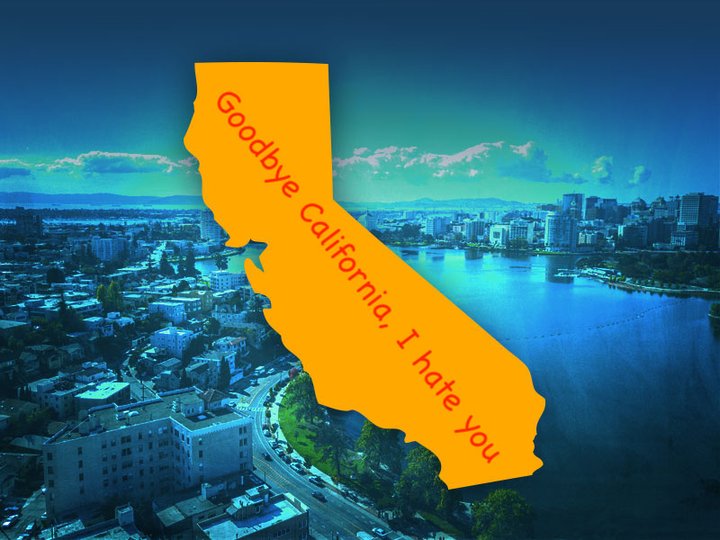 Over half of the state's registered voters expressed some desire to move out of California, according to a poll released yesterday by UC Berkeley's Institute of Governmental Studies.

The poll was conducted online in Spanish and English over a five-day period this month and had a sample size of 4,527 people. Of the people surveyed, 24 percent gave "serious consideration" to leaving while 28 percent expressed "some consideration."
The high cost of housing was cited as the most common reason (71 percent) to leave the state, while 46 percent wanted to leave because of the "state's political culture."
"There are significant partisan and ideological differences when examining the opinions of voters giving serious consideration to moving out of state," the report reads. It goes on to say that three times as many Republican voters thought about leaving the state when compared to Democratic voters.
High taxes were also cited by 58 percent of the respondents as a reason as to why they would consider moving out of the state and 50 percent said California is "one best places" to live — back in 1985, 78 percent of respondents said California was "one of the best places" to live.
Men want to leave more than women. A majority of Millennials want to leave, a majority of Gen. Xers want to leave, younger Boomers want to leave, and 52 percent of the respondents ages 65+ said screw you to their kids and grandkids they're stayin'.
So, LoCO fans, are you considering bailing out of here? Do you wanna leave Humboldt, or tell the whole liberal utopia of California to kick rocks?
Push the button to let us know where you wanna call home: