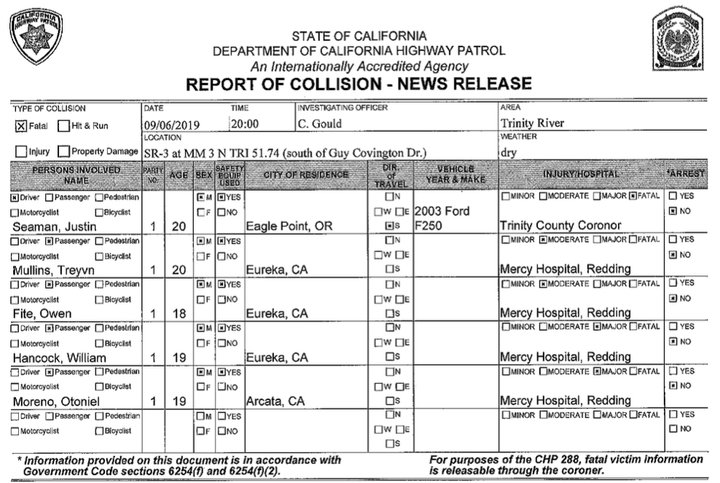 Press release from the California Highway Patrol:
On 9/06/2019 at approximately 2000 hours, Redding CHP Communications Center received a call of a traffic collision on SR-3, south of Guy Covington Dr. in Trinity County. Trinity River Area CHP officers responded to the scene and determined this to be a solo vehicle collision into a tree.

It was determined that the driver of the Ford pickup truck was driving at an accelerated speed when he approached a curve in the road. Due to the truck's speed, the driver was unable to negotiate the curve in the roadway and the truck ran off the road and struck a tree located on the shoulder. The driver succumbed to his injuries at the scene of the collision. There were four other passengers in the truck who were airlifted to the hospital with moderate to major injuries. SR-3 was closed for the duration of the extrication and was reopened at approximately 0205 hours.


Alcohol appears to have been a factor in this collision.


Any witnesses to this collision are encouraged to contact the Trinity River Area CHP Office at (530) 623-3832.