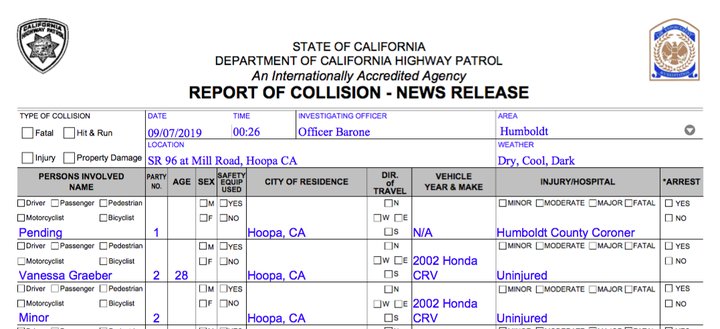 Press release from the California Highway Patrol:
On 09-07-2019, at approximately 12:27 AM, the Humboldt Area CHP Dispatch Center received a call from the driver of a vehicle stating she struck a pedestrian that was walking in the roadway on Northbound SR-96 at Mill Road in Hoopa. Emergency personnel responded to the scene and rendered medical aid to a juvenile pedestrian suffering from injuries consistent with having been struck by a vehicle.

Unfortunately, the pedestrian succumbed to their injuries at the scene and the Humboldt County Coroner's Office was contacted to respond. The driver of the vehicle, 28 year old Vanessa Graeber of Hoopa, was interviewed at the scene and alcohol impairment was determined not to be a factor.

It is unknown why the pedestrian was walking in the roadway.

The CHP Humboldt Area Office is continuing its investigation into this collision and asks anyone who may have information to contact the office at 707-822-5981 or send an email to humboldt_area.humboldt_area@chp.ca.gov.