Drivers line up for free sanitizer. | Photos and video provided by S.T.I.L.
A few charitable, local businesses owners are independently pumping out gallons of hand sanitizer and donating it to those in need as Humboldt continues to ride out the coronavirus epidemic.

Bubbles in Arcata and S.T.I.L in Eureka have been independently giving away their in-house hand sanitizer to first responders and members of the general public as stores struggle to keep their shelves stocked with the highly-coveted goo.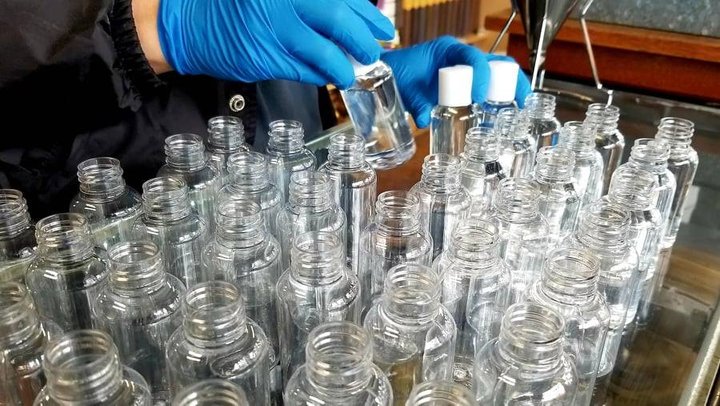 Bubbles owner Carla Hayes told the Outpost that she started making donations after seeing the effect the coronavirus has had on areas like Seattle and New York City.
"I was watching the news and was seeing what was happening and thought 'I'm gonna start making it in bulk so our first responders and delivery people don't have that problem,'" Hayes said. "It's just snowballed into this major production line."
Since then, Hayes said she's donated her sanitizer to Humboldt CHP, numerous volunteer fire departments, the Arcata Police Department, paramedics in McKinleyville, all five Humboldt Bay Fire stations, the Eureka women's shelter, St. Joseph Hospital workers, the Fortuna post office and many others.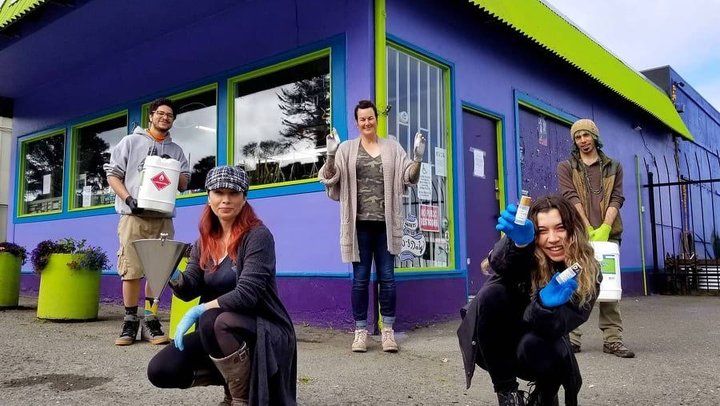 By converting their soap making station to a mini hand sanitizer factory, Jason Whitcom and Jennifer McMahon of S.T.I.L (Stuff That I Like) said they've cranked out 75 gallons of hand sanitizer donations in the last two weeks, which they've mostly donated to the general public via drive-through service outside of their Eureka storefront.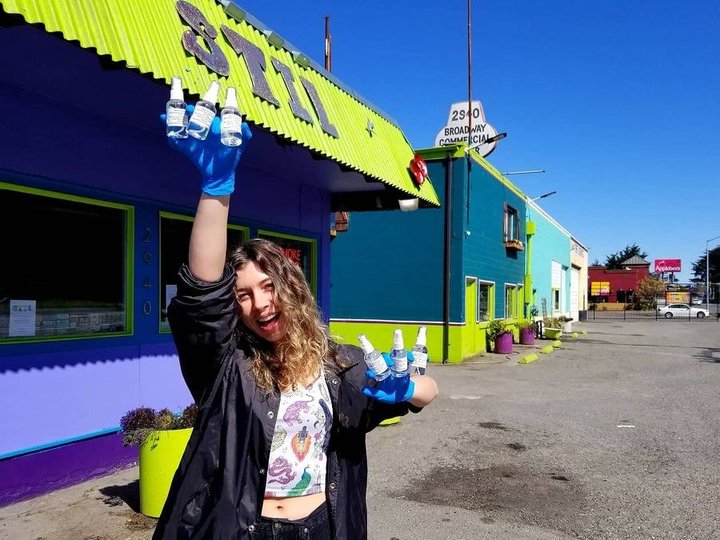 "On monday we had a line [backed up] onto Broadway," Whitcom said. "We did 600 2-ounce bottles in an hour and a half, and 1,300 by 4 p.m. We just need more alcohol and bottles. The alcohol supply chain seems to be loosening up a bit but bottles are all backordered."
Whitcom said that S.T.I.L has absorbed most of the cost of the donations, but said that numerous other businesses have stepped up to help make the giveaways possible.
"Huge thanks to John at Lithia Chrysler Dodge Jeep Ram Fiat of Eureka who has donated eight gallons of isopropyl alcohol so far and is sourcing more," Whitcom and McMahon stated in a Facebook post. "Big shout out to The Green Scissor out of Ukiah who has donated over $1,000 of alcohol. We have huge appreciation for all the community members and businesses such as Piersons, who brought us supplies as well as your kind words."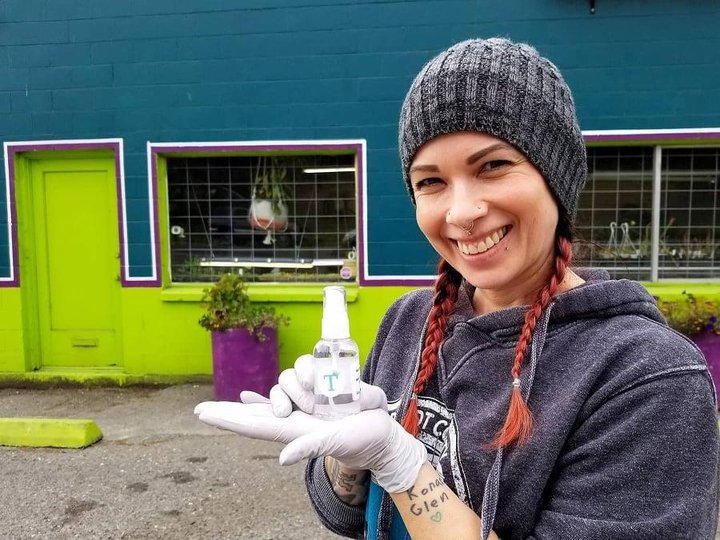 Whitcom said that they might do another hand sanitizer giveaway on Monday if they can obtain more supplies, but added that they have stopped refilling bottles to help prevent any unnecessary spreading of COVID-19.
"We will do it again in the no contact method of Monday if we can source more supplies," he said. "For a while we refilled people's empty bottles from home with this cold device that kept the process clean, but now with it in the community, that is even too high-risk for our comfort."