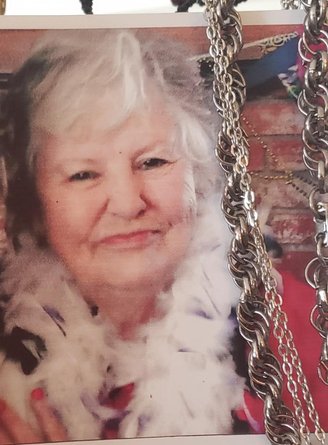 Evelyn Christine McManus was born on October 5, 1935 in Wenatchee, Washington and passed away peacefully in Eureka on April 7, 2020.

Evelyn was 84 years old and is survived by her sons Dave Parris (Nadine), James Mc Manus Jr.(Bobbi), her daughters Lorrie Anderson (Dean), Gigi Wehmeyer (Johnny) and Stephanie Adams (Rick). She is survived by her sister Betty Howell of Sacramento, her grandchildren Shawnatee Parris (Boston), Christine Tyson (Mike), David (DJ) Parris (Taylor), Kevin Anderson, Lindsay Mendes (Nicona), Allen Wehmeyer (Marcella), Misty Nichols (Justin), Jed Adams (Angel), Kelli Adams, Jeramiah Mc Manus, Noah Brown, Tianna Brown and adopted grandson Billy. Evelyn was proceded in death by her husband James Mc Manus, her brother Eugene (Buddy) Stanfield, her sister Ruby Hinthorn (Macy) and her parents Lester and Rosella (Rosie) Stanfield.
Evelyn spent her early years in Wenatchee, growing up with many of her cousins on her fathers side of the family. Although most of the family there were apple grows, her father (Lester) was a mechanic by trade and was well known for his ability to fix anything requiring wheels. Evelyn's mother (Rosie) was a master welder during the war and was very "hands on deck" with their children. Times were difficult in the '30s and '40s, so the family decided to pack up and move south to Oregon, where they resided in Cottage Grove for a short period of time. Evelyn and her sister, Betty, had several horses over the years and were very competitive in local fairs and rodeos.
The family soon lifted roots again and moved to Eureka where they purchased a home on 14th Street and raised many animals, including helping a cow give birth to a two-headed calf. Evelyn's father was very strict with his daughters and would never allow them to date before the age of 18 years old. Needless to say they would sneak out and meet the local boys in the middle of the night without dad's knowledge.
On one occasion when they were in their teens, their brother decided to take his sisters and several other friends to the Midway Drive-in in his '34 Ford. Back then the drive-in charged by the head so the boys decided to hide in the trunk of the car and let Evelyn drive them into the show. Well, being a little mischievous, Evelyn made a plan with the girls in the car to speed down Highway 101 with the boys locked in the trunk and the girls decided to scream just before slamming on the brakes, giving her brother the impression they were about to crash. Needless to say, by the time they opened the trunk her brother was boiling mad!
In 1954, Evelyn was 19 years old when she met a young 21-year-old boy named Dave Parris Sr., who was in Eureka working as a mailman. He won her heart with his charming Southern accent and they married soon after. Dave's parents lived in Mississippi, and as soon as they learned of the marriage, they immediately traveled to Eureka and convinced a local judge to order an annulment of their son to Evelyn. Dave's parents then drove Dave back to Mississippi, where he was never to enter California again. It was shortly thereafter that Evelyn discovered she was with child and Dave Parris Jr. was born.
A year later, Evelyn met a farm boy named Clayton (Butch) McDonald who was from Oregon and they soon fell in love. They were married in Longview, Washington without her parents' knowledge in 1956. When they returned to Eureka and told her parents about the marriage, her father was beside himself. In addition, Evelyn and the family soon learned the farm boy from Ranier, Oregon was only 15 years old! Course everyone would agree that Butch seemed much older then he originally disclosed. Both Evelyn and Butch were very self-motivated and discovered there was great money to be made in renovating old Eureka homes. They are both credited with buying, renovating and reselling many homes in Eureka in their early years of marriage. They soon decided to have more children. Butch was well known for his carpentry skills and after many years of marriage decided he wanted to move to the state of Washington, where many more job opportunities were being offered. This was not going to be in Evelyn's plan and quickly decided Eureka was where she wanted to raise her children, so Butch was off to Washington to find his fortune. They would later divorce and Evelyn was again on her own but this time with three children.
Evelyn soon learned that she would have to put her hard-working skills in place now that she was raising three children on her on. She always had an interest in the field of real estate and with her vast knowledge of renovating homes, she concluded this would be a great career. She started studying for the real estate test and finally the big day arrived … the test. She was very nervous especially when she was hearing from local agents that most don't pass the test on the first try. She often described to her children how confident she was when she completed the test and walked out the door. Her words were clear, "I passed." After a few weeks of patiently waiting, her confidence served her well … she passed. She was soon welcomed to her new job at "Cutten Realty," where she worked with and had become good friends with Mark Wahlund and Lee Hobbs. She loved the work and sold many homes in Eureka but learned after many hardships that real estate can be a hard way to make a living. It was very competitive. She eventually purchased a large Victorian home on 8th Street in Eureka, where she rented many rooms to local students and businessman. One day, Jim McManus, a longtime friend from her high school days, decided to rent a room, making it very convenient to walk to his job where he was the sales manager of McCrea Datsun. They built on their past relationship as friends over the years and soon fell in love. Evelyn would often describe how Jim was her true love that took a long time to find. They went on to built a wonderful life by building and renovating several Eureka dream homes over the years and raising all of their children.
Evelyn's great love was gardening. Several years back, she and Jim purchased a beautiful home on Buhne Street, where her garden became a beautiful site for neighbors and family to gather and admire the incredible blooming flowers all year long. She passed on many of her gardening secrets to her children — especially her daughter, Lorrie. You could pass by Evelyn's home on any one day and see Lorrie along side of her mother changing and improving the appearance of the garden. Many of her children would describe Evelyn's connection to her garden gave her a sense of stillness. This was really noticed by her children when they would stop by on a busy day and drop their life experiences on her and she had the ability to always listen first and give a supportive opinion.
In September 2019, Evelyn had a stroke at her home. Over the next several months, recovery was difficult as she lost her movement on her right side. It had always been understood that family would take care of family at home if at all possible and that is exactly what happened. Evelyn's daughters, Lorrie and Gigi, stepped up to the plate and were by Evelyn's bedside until she passed away. Although during her fight to live, Evelyn participated in the St. Joseph Hospital Rehabilitation Program, where the staff are to be commended for their excellent care. In the last several weeks, Hospice of Humboldt provided services to Evelyn and the family which can only be described as suburb. They are a caring and professional organization and we are very appreciative. Evelyn had two very special friends which deserve mentioning, too: Pete Belack and Nancy Pfeifer.
Due to the COVID-19 virus precautions, there will be no celebration of life at this time. When the crisis is over, a gathering will be planned to honor Evelyn. In lieu of flowers, please donate to our Eureka Humboldt for Hospice.
###
The obituary above was submitted on behalf of Evelyn McManus' loved ones. The Lost Coast Outpost runs obituaries of Humboldt County residents at no charge. See guidelines here.