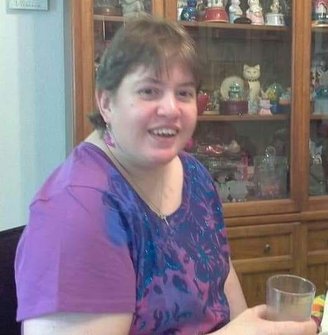 Michelle Annette Anderson
June 20, 1968 — March 4 2020
Fifty one years eight months and thirteen days old.
Michelle was born in Southern California in the early morning of a warm summer night, and passed into the arms of the angels at the Ida Emerson Hospice House in Eureka; five days after being diagnosed with cancer, she passed peacefully, with her Mom by her side, in the early morning of a cold winter night.
Michelle was born with challenges. Her parents were told she should be institutionalized, as she wouldn't live long and would never know them. But she was to live a life full of surprises. When she was two the family moved to Silverton, Oregon, where she attended Eugene Field school, St. Mary's, Mark Twain and Silverton High School. During this time she was active in the Girl Scouts, ran track and field for Special Olympics and was active in her church. In spite of many surgeries, therapies, strokes, unrelenting seizures and losing her ability to walk by herself in her teens, she was always happy and loved everything she did. In 1987 the family moved to Mckinleyville, where she spent the remainder of her life, living with her parents.
Michelle was a kind person, always caring more about others then herself. She loved God, all holidays, the color purple, embroidery all animals, her Black cat Lucy, colored shoes, whale watching, blooming flowers, fried oysters, patty melts, taquitos, anything Italian, Sean Cassidy, Carmen, the singer, Bon Jovi, lunch out, giving gifts, jewelry, watching the birds return and nest in the spring, and wearing anything sparkling, even bling on her shoes.
She didn't like mean people, fried eggs, salmon, the power outages and being off schedule. She was lucky enough to see Carmen in concert twice and a big never-forgotten highlight of her live was, when she was a teen, her sister took her to Canada to see a Bon Jovi concert. She also traveled to both Disney world and Disneyland. Fun times.
The family would like to thank Humboldt Neurology, Drs John Gambin, Thomas Krenek and Donald Iverson, for 33 years of care, concern and friendship. Mad River Ambulance, the nurses and Dr. Yost at the Mad River Emergency Room. The doctors and nurses on med-surg at Mad River Hospital — I would name them but I don't want to leave anyone out, you were all wonderful. Also the nurses, social workers and chaplains at Hospice of Humboldt. And also Father Joseph of St. Mary's for the anointing of the sick, so important to Michelle. Her special friends always there when needed — Dede DeLodder, Kathy Galloway and so many others.
Michelle was preceded by six grandparents, her Aunt Chicken, her Uncle John, her very loved black cat Lucy and her poodle Daisy.
She is survived by he parents Richard and Arlene Anderson; her brother Rick Anderson of Arcata; her sister Kristal Waters (Rocky) of McKinleyville; her Sister Tami Anderson of St. Paul, Minnesota; her very special niece, Bridget Fenner of Everett, Wash.; nephews Jeffrey and Randolph Anderson of Minnesota; her Aunt Lori; uncles Ron and David; many cousins; her cat Cora and dog Shadow.
A celebration of her life will be in Silverton, Oregon, where she will be buried next to her favorite great-grandmother in the Bethany Pioneer cemetery, some time after things return to normal and travel is permitted. Donations may be made in her name to Hospice of Humboldt, or pass on a kindness to someone…
Michelle was funny, kind, stubborn and loving. She was a joy. She is and always will be, missed beyond measure, an unexpected life well lived.
###
The obituary above was submitted on behalf of Michelle Anderson's loved ones. The Lost Coast Outpost runs obituaries of Humboldt County residents at no charge. See guidelines here.