Hear that rumbling? Those are the Humboldt stomachs that are still operating during the shelter-in-place order. They demand comfort! They need to chow down!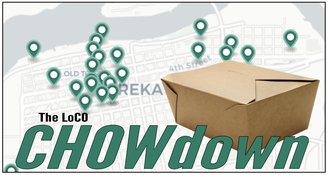 So, since restaurants have been deemed an essential service, LoCO is switching up the Lowdown listings to better serve those of you with pandemic hunger pangs. Instead of listing the canceled events you were sad to be missing, now The LoCO Chowdown page will list local restaurants that have managed to remain open in some form with some details about what they're offering. Humboldt's restaurants are very eager to serve you now! Be sure to click around the handy map to potentially locate previously unconsidered grub near you! If we've missed a restaurant (our bad, there's a lot!) or something needs to be updated, feel free to hit us up at news@lostcoastoutpost.com.
And since the Chowdown is still the Lowdown, to keep you safely entertained we'll also list locally relevant online-only events as we find 'em so that you can maybe keep something resembling community in these strange times.
Side note: The Outpost would like to applaud the efforts of the admins of the Humboldt To Go Facebook group, a page that took off in the last month due to demand for info on the local yums we've all grown accustomed to. The energy we've seen there was a big part of our decision to compile this list. Thanks!
Let's eat our way through the weirdness! Nom on and Chowdown.