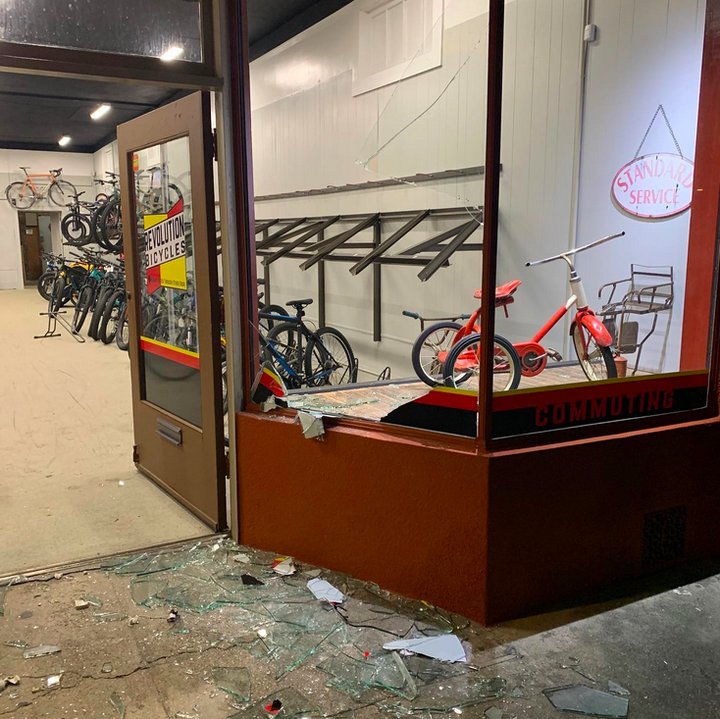 ###

Justin Brown, co-owner of Revolution Bicycles, was not too thrilled when he was awakened a little before 4:30 this morning by a call from his alarm company notifying him that the alarm at the Henderson Center bicycle shop had been set off.
Brown arrived to discover that one of the business's windows had been broken and someone had stolen a $6,000 Trek Rail 7 electric mountain bike. Though the photo looks a little like the bike was stolen from the display window, this is not the case, Brown told the Outpost over the phone today. The bike was actually located about 25 feet away from the window, leading Brown to believe this was a planned burglary.

"They definitely knew what they were doing," Brown told the Outpost. "They grabbed the most expensive bike in that row and it was way back in the shop."

The Eureka Police Department received a call from a neighbor at 4:24 a.m., reporting that they had heard breaking glass at the business, EPD Public Information Officer Brittany Powell told the Outpost in an email. An officer responded to the scene within a minute of the call, Powell said, but the suspect had already fled.

The EPD is attempting to collect video surveillance from the scene and anybody with information on this incident is asked to call the police, Powell said.

Revolution's owners are also asking people to be on the lookout for the bike, and Brown said one of his staff will be contacting local pawn shops. But he is not very hopeful that the bike will be retrieved. Though insurance will cover some of stolen item and window repairs, Brown says it's still a hard hit for the shop, especially during these difficult times.

Since the COVID-19 emergency, Powell said, the police department has not seen a noticeable increase in commercial burglaries like this one, but has seen an increase in thefts in general — particularly from vehicles and homes.

"There are more people home and calling in suspicious activity in their neighborhoods," Powell said. "Our officers have increased proactive patrols by 25 percent since the shelter-in-place and do regular business security checks throughout the night."