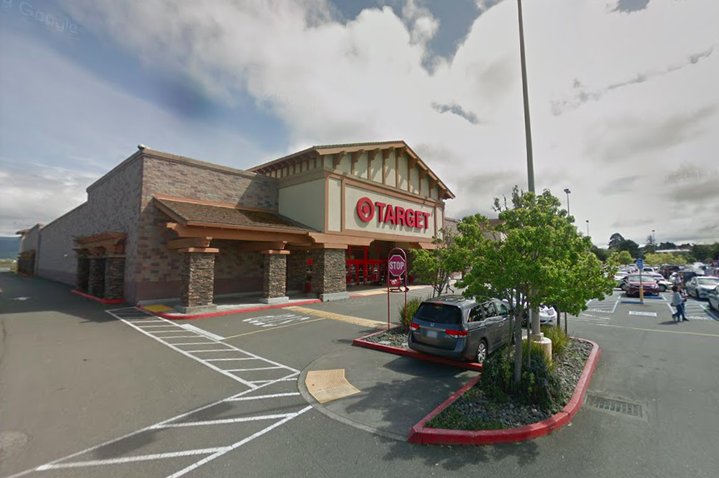 PREVIOUSLY: An Employee at Eureka Target Tested Positive for COVID-19; Worker Had No Contact With Customers, Public Health Says
# # #
In the hours after Humboldt County health officials confirmed that a Eureka Target employee contracted COVID-19, three other employees at the popular retailer told the Outpost they don't believe enough was done to protect them or the general public from exposure to the virus.
The discovery of this case brings to the fore anxiety felt by many retail employees during this pandemic, when countless low-paid workers suddenly find themselves "essential," and on the front lines.
All three employees requested anonymity to protect their jobs. One, who we'll call Jessica, said she works on the night crew that's been remodeling the store during non-business hours. The unidentified person who tested positive was part of this crew, but Jessica said she didn't learn about the case until yesterday.
"I hadn't heard anything about a confirmed case [at the store] until a friend sent me your article," she said in an email to the Outpost. "I have not been contacted about being exposed and I have definitely not been tested."
Another employee, who we'll call Emily, was the first to notify the Outpost about the case. In a follow-up email this morning, she expressed concerns that this worker may have been coming in for days before getting diagnosed.
Public Health officials said on Monday that close contacts have been identified and tested, and that results all come back negative. "Close contacts are nonetheless quarantined and being monitored," Public Information Officer Heather Muller said in a statement to media.
But Target employees remain concerned. Reached by phone Tuesday morning, Jessica said that even if the COVID-positive employee didn't have direct contact with any customers, they definitely touched shelves and products while remodeling the store, potentially leaving traces of the virus behind. The Centers for Disease Control and Prevention (CDC) notes, "Current evidence suggests that SARS-CoV-2 [aka COVID-19] may remain viable for hours to days on surfaces made from a variety of materials."
Jessica feels the risk could have been minimized. "The Target website says all employees are given gloves and masks," she said. (It does; see here.) "We were never given anything. One of my coworkers brought her own gloves. Definitely they weren't given to us."
Jessica said she hasn't been to work for the past two weeks because she has been ill. In fact, she believes she may have COVID-19.
"I had been calling in sick for two weeks now telling them I had symptoms," she said. Her symptoms include fever, coughing, body aches, headaches and difficulty breathing. "I also have asthma," she said. "I told them I'm not comfortable coming in to work since I'm at a higher risk."
She said she asked about being granted two weeks off for her own protection but was told she'd need to call in sick each day. "They said they can't guarantee I'll get paid for any of it," Jessica said. She added that she has since contacted the company's benefits office, which has authority to grant longer-term leaves, and now has a pending request to get 30 days of leave.
The Outpost reached out to the Eureka Target for comment on Monday. We were told to contact the company's corporate press office, which we did. We received the following statement via email after Monday's story had been published:
We're working in close partnership with local health departments and can share that we have been notified that a Target team member at our Eureka store has a positive case of the coronavirus. Our top priority is the health and safety of our team members and guests, and we're taking a number of steps to move forward.

First, we've communicated directly with this team member, who is in quarantine and following all health department guidelines, and we'll pay them while they're on leave. We've also worked quickly to deep clean and sanitize the store, which is the recommendation of public health experts. We've notified the entire store team and provided them with the appropriate CDC guidance. We'll continue to first and foremost take care of our team and guests.
It's not clear exactly when the COVID-positive employee was diagnosed nor how long they worked before getting tested. But the employees who contacted the Outpost said they don't feel taken care of.
"I don't feel safe coming to work whatsoever," an employee we'll call Jacob said via email. Unlike Jessica, Jacob did receive a phone call from human resources informing him of the positive case, but he said that isn't nearly enough to make him feel protected.
"They never offered testing if I wanted it; they are not offering paid leave when more than half of the front store team has been calling off [of work] for fear of their lives," he wrote. Upper managers and team leads can take paid time off, Jacob explained, "but all of us who are actually having face-to-face contact with customers get absolutely no paid leave. Most of us are college kids trying to live independently. If this keeps up at this pace most of us will be homeless. I'm writing this to you as a cry for help, for all of the community's health."
He urged people to stay away from crowded places, and he included his employer in that description.
"Target's 'limit' on customers in the store is 350," Jacob wrote. "Does that seem like a limit? No. Winco lets 50 people in max … ."
Jessica, who recently moved to Humboldt County to attend HSU, said she put off seeking testing for COVID-19 because "everyone I've talked to said it's really hard" to obtain a test. But she finally reached out to public health officials yesterday and hopes to be tested soon.
Jacob, meanwhile, said morale at the store is approaching a breaking point.
"The main purpose of this email I'm trying to get across is that no one at Target feels safe," he said. "None of the customers are really safe. Target needs to actually do something to help before all of us either quit or go on strike."