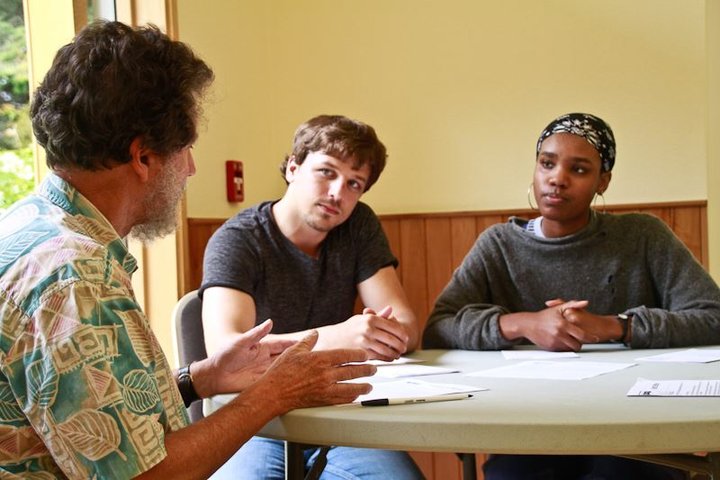 # # #
They say road trips are the ultimate test of a relationship — or they used to say that, back in the pre-COVID-19 world. After more than a month under these shelter-in-place orders, the relative confines of a road trip sound like pure freedom.
Regardless, the idea behind that road trip maxim is that long hours of limited socializing, stressed-out decision-making and forced confinement can really put a strain on a relationship.
In a way, then, this marathon shut-in we're all enduring amid a global pandemic is like a very long, very stressful road trip that never goes anywhere.
For some, that can be a scary or even dangerous scenario. Married couples and families are experiencing more stress and anxiety, and with courts, schools and other resources largely shut down, homes can turn into virtual pressure cookers. Domestic violence reports in California have surged, according to a recent CalMatters story.
But help still exists. Here in Humboldt County, the nonprofit Humboldt Mediation Services is helping folks peacefully navigate their conflicts through videoconferencing technology.
In an interview with the Outpost, HMS General Manager Peggy Pryor said the normal process hasn't changed all that dramatically. People who reach out for help speak with one of the organization's three case managers — Gina Velasquez, Kristen Ketterman or Nina Egbert.
"They're the solid, substantial, kind and understanding voice that tells [clients] about the process," Pryor said.
People who reach out to the organization often aren't entirely sure whether they want to use the mediation services, but case managers tell folks to think of the process as a less stressful and far less expensive alternative to, say, court proceedings.
"We encourage them to preserve whatever parts of the relationship they want to preserve," Pryor said. Services are offered on a sliding scale, "and if people are not able to pay, we will not withhold mediation," she explained.
The organization offers services for clients with a wide range of disputes, including divorce and separation, child custody, family squabbles, workplace or business disagreements, tenant-landlord beefs and more. Pryor said that by the time someone calls them, the parties often aren't on speaking terms.
"I really hope it becomes normal to call us sooner," she said.
Case managers assign a panel of three mediators to each case, and under these shelter conditions, the mediators conduct interviews with each party individually via videoconference. After the individual meetings, the mediators guide participants through "a process of being heard and of hearing each other," according to a press release the organization sent out on Monday.
Pryor said HMS has trained hundreds of people during its 37 years in existence and currently has 50 to 60 volunteer mediators on staff, some of whom have been with the organization for decades.
She said it's good that the organization has adapted to the new normal.
"I'm really excited that we've been nudged to get our technology going," she said. There will be times even after we get our of shelter-in-place when that technology will be useful."
Below we've posted the organization's press release with more information on their services:
Why Wait? Humboldt Mediation Services is Ready to Help via Videoconferencing

Here in Humboldt County, and here on the planet, we're sharing an experience of being cooped up for long periods of time with just a few people, often the most essential people in our lives. There may already be stressors on our relationships, but anxiety about something so huge as a pandemic, worry about income, concern for family and friends who might be ill, children expressing their anxiety in the ways children do, and the unique ways we all express our boredom can be a recipe for further cracks in those relationships that are most important to us.

Conflict in relationships is entirely, totally normal. We know that right down in our bones, but we often blame ourselves for not always being able to resolve important conflicts in our lives, or we worry that others might stigmatize us if we can't "fix" every important relationship. Once, we may have had members of extended family or wise folk in neighborhoods to whom it might have felt very natural to reach out.

Humboldt Mediation Services assists in this role. We are a 37-year-old, native Humboldt County nonprofit organization composed of trained volunteer mediators (an in-depth 35-hour training) who serve in teams of three. We can meet with you during this time via videoconference. HMS mediators are neutral facilitators, clarifiers, ground-rule enforcers, and consultants in construction of agreements for going forward. We assist in getting those agreements into clear written language. HMS mediators never impose solutions, never make decisions for you, and never make recommendations to courts or other agencies. Humboldt Mediation provides an affordable alternative to Court, and we are an alternative that can be much kinder and less costly in terms of money, time, relationship outcomes and choices about solutions.

The process goes something like this:

Give us a call or contact us through our website.
One of our Case Managers will get in touch, usually within one business day.
If you decide to go forward with mediation, you complete a simple intake package.
If you like, our Case Managers can reach out and invite the other person(s). We assign a team of three Mediators, who contact you to begin scheduling.
Two of the three Mediators meet with each of you individually to understand your concerns and hopes, as well as to offer a bit of coaching about how to make the most of your sessions.
Following those individual meetings, the three Mediators meet with the two (or more) of you, and guide you through a process of being heard and of hearing each other, as well as planning written agreements for going forward.

So, even if it's only that you're getting on each other's nerves, or if you have some difficult shared decisions to make, Humboldt Mediation can provide resources to help you navigate through to a win-win plan for going forward. Why wait until conflict resolution costs more in terms of money, time, and the practical/personal value of your relationships?

Please don't wait: contact us at 707-445-2505 or humboldtmediationservices.org.