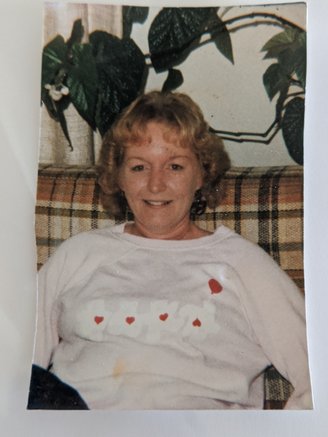 Brenda J. Gevas
February 28, 1947 - June 11, 2020
Our mom, grandma, great-grandma, and friend went to the heavens above at home peacefully with her family at her side on June 11, 2020, at age 73. Brenda was born to late Joe and Dorothy Johnson of Eureka on February 28, 1947. Eureka is where she spent most of her life, attending local elementary schools, Jacobs Junior High School and then Eureka Senior High. Brenda knew many people from years of hanging out at her dad Joe Johnson's wrecking yard and then his electrical shop until he passed in 1986. Brenda's first job was at Woolworth sandwich counter in 1965. She enjoyed people and was very social. Waitressing was a great job she enjoyed. Throughout her years she worked for many of the local Redwood Restaurants but claimed Samoa Cookhouse to be her favorite. She started there in 1981 and stayed until 1997. There she met a group of ladies who were not only her co-workers but became her closest friends. They enjoyed Tuesday morning breakfast every week, bowling for Redwood Restaurants, chartering deep-sea all-women fishing trips on the boat "HAPPY HOOKER" and referring to themselves as the HAPPY HOOKERS crew — that got them a spot in the Times-Standard newspaper — as well as any other adventures Brenda could get them to do, and there were quite a few of those. Teresa, Carol, Barbara, Laura and the late Barbara Anderson of Eureka — she loved you all!
Brenda's greatest accomplishments were her favorite daughter Connie Tritchler and favorite son Robert Cassidy of Oakland. She always said it was easy to have favorites when you had one of each. Brenda's absolute favorite job was being a grandma and great-grandma. She would tell us that the real reason for kids was to get grandkids and we know she meant that. Brenda loved teaching her grandkids things from playing Candyland to playing bingo and slots at casinos. Grandma taught us how to cook, garden, camp, fish and change the color of daisies with food coloring and never stopped teaching us new things or old ones. You will be forever missed grandma, but never forgotten. We all know that any accomplishments we achieve or just when we need advice you will be that guardian angel to guide us.
Brenda had three great-granddaughters that she so enjoyed seeing as much as possible and referring to all as Snikefritz when trying to call them by their names.
Brenda married Hank Gevas in 1985 and for the next 22 years life was full steam ahead. In the summer of 1986 they would load up and head to Swimmers Delight for the weekends, then it got where Brenda would have the camper all loaded on Wednesday and head out Thursday morning getting camp all set up so when Hank got off work, that was home. Brenda would hang up fake flower baskets on trees, lights strung all over and would sweep the dirt outside the door to put a WELCOME CAMPERS doormat out. We would laugh wondering if she might start hanging family photos or other decorations. She loved it there. Brenda never knew a stranger. She would flutter around and meet every camper there inviting them for games, potlucks or to just visit. She was that social butterfly.
Brenda and Hank became snowbirds making their winter nesting spot in Quartz Site, Arizona. They loved being there and meeting good friends Jim and Jennifer who they did a lot of traveling with going on cruises and other adventures. They moved to Coos Bay, where their children lived, spending as much time as possible before Hank passed in 2007. Soon after, Brenda moved back to Eureka, where she reunited with her childhood friend of 60+ years, Pearl Sanford- Walter. Pearl moved in with Brenda and that was a modern-day version of the "ODD" couple. They enjoyed playing bingo, slots, puzzles, recorded TV and figuring out what day it was, but they never had a dull moment. Thank you Pearl for always accommodating us kids when we all came for holidays. Kelly, our mom, was thrilled she met you and enjoyed the outings you all went on. She felt safe going out and about with you. Thank you for being a great friend!
So many special people in our mom's life that she enjoyed, appreciated and we thank for helping her out and being our eyes and ears. Hans and Bertha, she enjoyed the many special times with you both and loved to hear that yodel in the mornings and going to the casinos and dinners. She felt secure knowing you always watched out for the neighborhood. Anthony and Maryellen, thank you for being our eyes and ears making sure she was doing ok at all times, making her great meal's, sitting with her if she just needed someone to talk to or just to get over her shortness of breath, she always knew you both were there. A few other people to thank are Gloria, you always made her feel like a million bucks after a perm or cut. James, thank you for fixing things and helping out, she enjoyed you. All of her neighbors and friends she recently reconnected with and would of liked to have spent more time with. THANK YOU TO ALL THE STAFF AT HOSPICE OF HUMBOLDT — we couldn't have done this without your help and guidance.
Brenda was survived in death by her cat Lucky who she loved above all others, favorite daughter and son-n-law, Connie and Quentin Tritchler of Medford, favorite son Robert Cassidy of Oakland, grandson Christopher Boynton and wife Tracy, granddaughter Shelby Tritchler and fiancé Stephen, granddaughter Breanna Tritchler and three great-granddaughters — Lillian and Natalie Boynton and Sophia Lassman all of Medford.
Brenda was preceded in death by her late husband Hank Gevas, parents Joe and Dorothy Johnson, Brother Chuck Johnson all of Eureka, sister Claudia Thomason of McKinleyville, nephew Scott and niece Sandi Thomason of Texas.
There will be a celebration of Brenda's life Sat August 15, 2020 starting at 1 p.m. to 4 p.m. at 4050 N Highway 101 Eureka, CA. 95503, which used to be KOA campground site, a 28-large gathering area. Family will provide food and desserts. So please bring a smile and a story and come by to share with her family.
###
The obituary above was submitted on behalf of Brenda Gevas' loved ones. The Lost Coast Outpost runs obituaries of Humboldt County residents at no charge. See guidelines here.