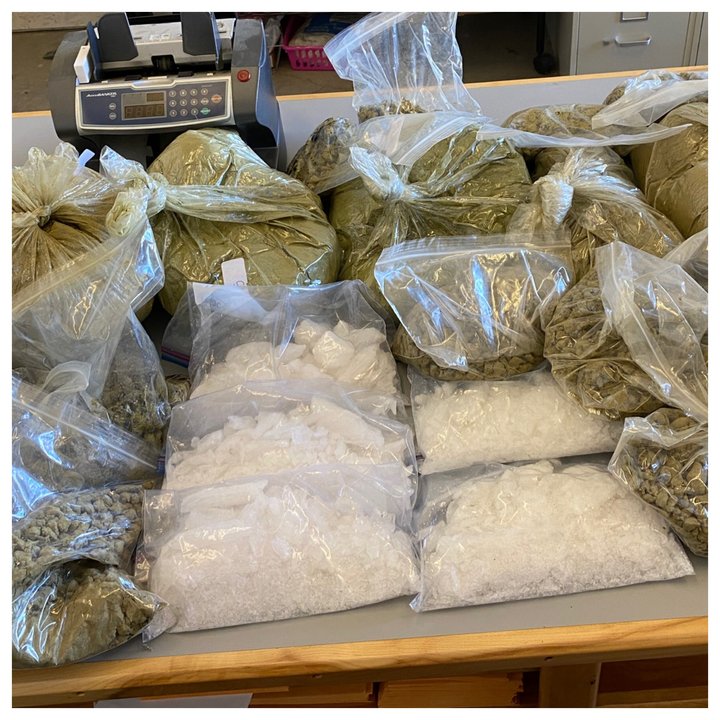 Press release from the Humboldt County Drug Task Force:
On August 14th, 2020, special agents with the Humboldt County Drug Task Force (HCDTF) served a search warrant in the 200 block of Willow St. in Rio Dell. Agents had been investigating the residents of this location for several months and suspected them of trafficking heroin, methamphetamine, and marijuana.

When the agents arrived at the residence they located a family member and friend of the home owners who were watching the house as the home owners were out of town. During a search of the residence agents located 5 pounds of methamphetamine hidden in a compartment in the floor. Agents located approx. 30 pounds of hash (concentrated cannabis), a money counter, digital scales, and packaging materials in all sizes.

This investigation is on going and charges will be forwarded to the Humboldt County District Attorney at the conclusion of the investigation.

Anyone with information related to this investigation or other narcotics related crimes are encouraged to call the Humboldt County Drug Task Force at 707-267-9976 or the Humboldt County Sheriff's Office Tip Line at 707-268-2539.