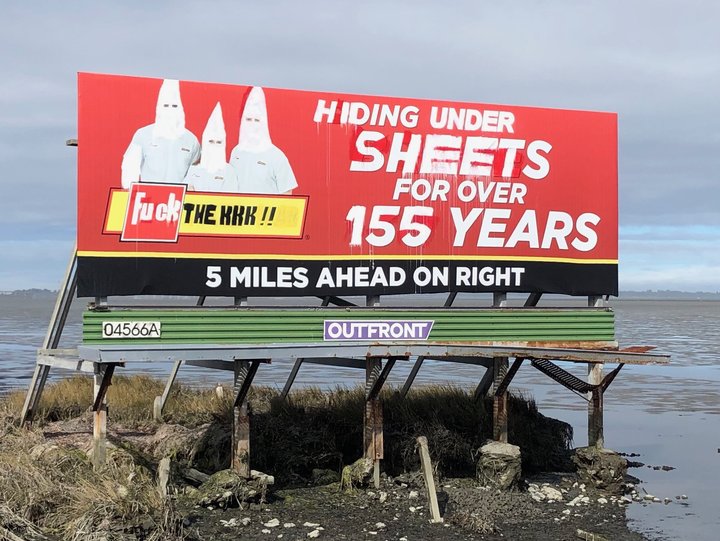 ###
No fewer than half a dozen people contacted the Outpost this morning to report this creatively, uh, reimagined billboard along Hwy. 101 between Arcata and Eureka. A sign advertising brake service at a Eureka tire store was transformed overnight into a statement of opposition to the Ku Klux Klan. (Bold!)
The artist vandal appears to have done some homework and a bit of math. America's most infamous white supremacist hate group was founded (slightly less than) 155 years ago by six former officers of the Confederate Army. What that has to do with brakes and tire service we do not know.
Geoff Wills, owner of AllPoints Signs, told the Outpost via phone that his employees have already taken the modified image down.
Humboldt County plans to purchase the two parcels on which this and two other billboards stand from Wills and co-owners Tom and Gretha McMurray. The property acquisition is part of the multi-agency effort to complete the Humboldt Bay Trail between Arcata and Eureka.
Hank Seemann, the county's deputy director of environmental services, told the Outpost by phone that the negotiated purchase price of $600,000 is tentatively scheduled to go before the Board of Supervisors for approval on Sept. 15. The deal is already in escrow, scheduled to close on Sept. 24, and the property acquisition is scheduled to come before the Board of Supervisors next month.
One quick footnote: Google Street View reveals that one of the three friendly-looking service workers who got hoods painted onto their heads was a Black man. We'll leave it to our readers to debate the cultural, artistic and political significance of that fact.