Cesar Octavio Valenzuela, the last of the "Manila Five" defendants to resolve his case, pleaded guilty this morning to charges that will put him in state prison for 13 years.
Judge Christopher Wilson accepted Valenzuela's pleas to carjacking and the special allegation of use of a firearm. He will serve nine years for carjacking and four years for the weapons allegation. Sentencing was scheduled for Sept. 21.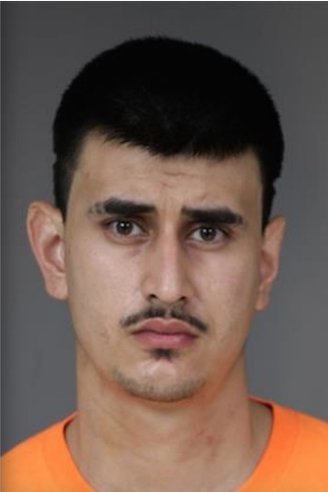 Valenzuela, who will turn 27 next week, is the oldest of five people involved in the December 2016 carjacking that ended with 20-year-old Tyson Eduardo Claros shot dead on state Highway 255. All defendants were arrested shortly after the killing and have spent nearly four years in custody.
Shooter Brandon James Mitchell, 26, is serving a prison term of 27 years. Valenzuela's girlfriend Tamara Nicole Thomson, 22, was sentenced to 14 years and 25-year-old Hector Godoy-Standley, 25, to four years.
The only defendant not yet sentenced is 22-year-old Catherine "Catie" Fode, who pleaded guilty early on to voluntary manslaughter and agreed to testify against the others at trial. Now that Valenzuela has finally resolved his case, Fode can be sentenced.
Claros was riding in a car with a woman friend, with Thomson a passenger in the back seat, when Thomson pulled a gun and ordered the driver to pull over. When she did, a car pulled up and Valenzuela, carrying a gun, ran to the driver's side door and screamed at the driver to "Get the fuck out of the car."
Mitchell went to the passenger side, and within seconds he shot Claros five times. Thomson and Valenzuela then took off in the woman's car, leaving Claros bleeding to death on the highway. They also left behind an eyewitness.
Fode, Mitchell and Godoy-Standley fled in Godoy-Standley's car. At the time Fode and Godoy-Standley were living together in Eureka. Mitchell was living in San Francisco but had recently taken a bus to Eureka.
According to what Thomson told investigators, Fode and Mitchell believed Claros had molested their 3-year-old daughter. That allegation was investigated but never charged or proven.
Thomson and Godoy-Standley were sentenced in May but have not been transported to state prison. Valenzuela is represented by Deputy Public Defender Casey Russo. Deputy District Attorney Carolyn Schaffer is the prosecutor.