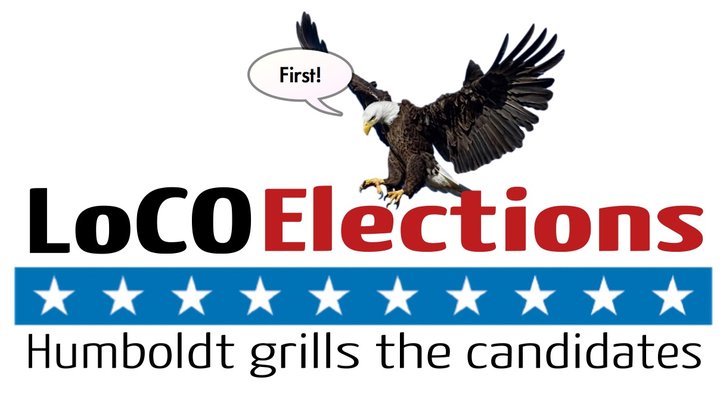 ###
This is going to be a crazy different election season. Campaigning is going to be limited in unexpected ways, as few people will particularly welcome a stranger showing up on their doorstep for non-essential business. Mail ballots are going out to every voter in Humboldt County. Almost no one will vote in person. People will be casting their ballots early, and the results of the elections will be arriving late.
Here at the Lost Coast Outpost, we thought this would be a good time to revive an experiment we last ran in 2014, which we called LoCO Elections.
What's LoCO Elections? It's a place where the electorate can put questions to their candidates for local office, and where those candidates can answer them. Also, candidates can post their own news releases and such, mentioning their endorsements or positions or what have you.
How does it work? Pretty much the same way it worked back then – here was the complete introductory post at that time – but here's a quick rundown. You, the Outpost reader, can locate the race and candidates you're interested in, and then post a question. Those questions are lightly screened by LoCO staff for trollery and/or "when did you stop beating your wife"-style questions, then they're put on the site. Readers can upvote the questions they think are most pertinent, and candidates can answer them.
Check out how it went with first-time candidate Natalie Arroyo back in 2014 – plenty of smart questions from the LoCO readership, plenty of length answers from the candidate. It was a gratifying exercise.
Right now, we have all the candidates for Eureka and Arcata city council on there, and we'll add more races in the coming days. The candidates with the green check marks are candidates who have signed up for the Outpost's initial call to participation. They are standing by, awaiting your questions. (Dot Wentworth – contact us! Your email bounced.)
OK! Time's already running short, so let's get to electioneering! Ask your questions! Upvote other questions! Candidates – answer those questions, and if you're not already signed up drop me an email and hank@lostcoastoutpost.com and I'll get you sorted out.