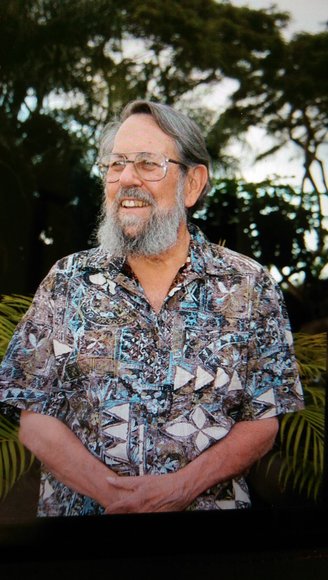 John Nicholas DeBoice went home to the Lord on August 20, 2019.

John DeBoice was preceded in death by his father William DeBoice, mother Jane DeBoice, and sister Barbara DeBoice. He is survived by his wife Beveryle DeBoice, his children Whitney and Wendie DeBoice and granddaughter Kameko DeBoice.
John Nicholas DeBoice was born in Asheville, North Carolina on September 13, 1943 to Jane Lyman DeBoice and William Foley DeBoice. Soon after he was born, he and his mother moved back to Springfield, Illinois when his father who was in the Army Air Corps was deployed to mainland China helping to maintain air communications for the remaining years of World War II. John and his mother lived in Springfield with his grandparents until his dad returned. The young family stayed in Illinois while his dad attended the University of Illinois and that is where John began kindergarten on the college campus. He obviously had a rock-solid foundation for his education! When he was in the third grade his dad had completed his degree in engineering and the family made a big move to southern California. All of John's public-school years were spent in Long Beach. In junior high school John went to a meeting held at the school by the local Boy Scouts of America and wanted to join. He signed his dad up to be a scout master. This was kind of a surprise to his dad, but it succeeded and they had seven years of wonderful adventures in scouting. John loved to hike and continued to hike throughout most of his life.
John's first job was operating the merry-go-round at Knott's Berry Farm. He took this work very seriously and he decided he wanted to do this for the rest of his life. While living in Southern California he also enjoyed surfing. His dad convinced him that if he went to the University of Hawaii there would be great opportunities to surf, and off he went in 1961 to the University of Hawaii. In Hawaii, he got a job in the school food service as a short order cook and later as a waiter at formal dinners given by the president of the university. As always, he took his jobs very seriously and did very well. He did well in school too and when he graduated, he was offered a fellowship to study engineering at the University of California, Berkeley. In 1968 John decided to take a break before continuing on with the doctoral program at Berkeley and was hired by Dows Chemical to work at their plants in Michigan and Texas. While living in the town Freeport, Texas he met a young school teacher Beverlye Worthington and they became close friends. Within a few months the two married on February 1, 1969 and moved back to Martinez, California. John graduated with a Doctor Degree in Civil Engerineering May 1974 from the University of California. The family was complete with the arrival of their son Whitney Lorn born August 5,1974 in San Francisco and a girl Wendie Dawn Jan 31,1977 adopted from the Philippines.
John has had a long and successful career in California, Brazil, and the Philippines. He was employed with Montgomery from 1974 to 1980 and Bissell and Karn in the 1980s until he and his wife moved to Humboldt County in 1995. This is where John settled in the job that he found most satisfying. His friends at Oscar Larson and Associates in Eureka have become a second family. John has done a lot of projects around the Humboldt County area for the 25 years . Before John passed unexpectedly, he and his coworkers were working on 3 water projects for St Helena and a study for Placer County. He loved his job and he worked up to the day of his passing.
During his later years John was the happiest when we welcomed his granddaughter Kameko DeBoice into the family August 30, 2008. She noticed that he really loved watching football during the fall season and gave him a football for Christmas one year. Kameko was even able to get him to go out and throw the ball with her on Christmas Day.
When John wasn't working, he loved to read and watch football. He also loved taking family road trips when the kids were younger. He also loved taking the Amtrak train to Colorado for Thanksgiving or fly to his home away from home the Hawaiian Islands Maui and Kauai. While on the islands he loved to read, go on drives, sunset cruises, and/ or whale watching.
John passed away suddenly August 20, 2019 at St Joseph Hospital in Eureka. He was loved and missed by all his friends and family. The family would like to thank St Joesph Hospital for the loving care while he was there and to Ayers Family Cremations for their assistance and their kind services. Due to the family request a service will be at a later time.
###
The obituary above was submitted on behalf of John DeBoice's loved ones. The Lost Coast Outpost runs obituaries of Humboldt County residents at no charge. See guidelines here.