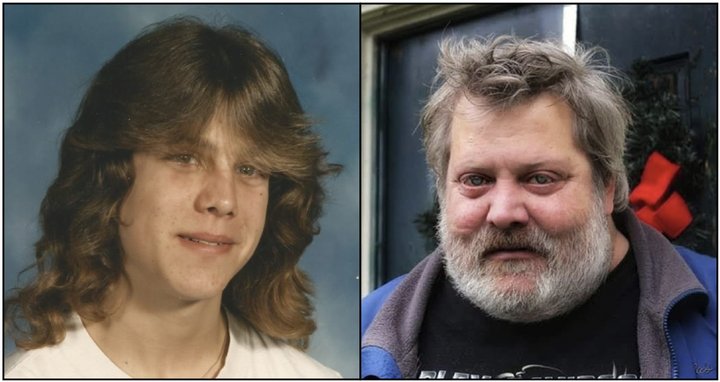 David Byron Bibler II was born September 20, 1972 in Eureka and died in his home town of Arcata July 4, 2020 at the age of 47. He was the oldest of five children born to David Byron Bibler and Cynthia Jean (Barker) Bibler. David is survived by his parents and siblings; Mary, Stephen and Jonathan. David is also survived by his daughter Karlie Jade Bibler and his Grand-children Zoey Susan Lynn Snyder and Wyatt Alan Snyder.
Growing up in the '80s, David was an avid skateboarder and mountain biker. He was blessed with having Redwood Park and the Arcata Community Forest as his backyard, and spent much of his free time building forts in stumps, finding secret trails that were generally overlooked, and running around the woods emulating his favorite '80s action stars. In high school, David loved welding, motorcycles, traveling, and hiking in the nearby Trinity Alps. He loved the outdoors and explored parts of Humboldt County that most people have never seen. David was a regular at Arcata staples like Tiffany's and Blue Max Pizza, or could be found hanging out on the Plaza with his friends. He was overly generous to everyone, always giving away the last of what little he might have to others without a thought. He developed an interest in heavy metal and punk rock and became known for cruising around Humboldt on his Shadow 500 motorcycle, with his trademark long auburn hair and leather jacket. He was popular in many circles, and was usually found at social gatherings with his brother Collin, who was a year younger in age. They were a magnetic duo, and as one friend recently stated, they "put a lot of miles in walking around Arcata". David, and his brother Collin, were the embodiment of 1980s youth in Arcata.
After high school in the early 90s, David lived in Seattle, Washington near the Green Lake neighborhood for several years with his long-time girlfriend Jennifer Johnson, where he helped raise their daughter Karlie Jade Bibler. They lived in Seattle during the years the "grunge" movement exploded. David fit in well with this group (long hair, ripped jeans, leather jacket, punk/metal musical interests), and enjoyed his time in the Emerald City. Eventually David's family moved back to Arcata where he worked at a local electrical company for a number of years. Later in life David became ill and was able to do less, but was still remembered by many and always spoken highly of. Throughout David's life he enjoyed and valued his many friendships. He had an infectious laugh, and found humor in visual imagery and storytelling. His sense of humor would rear its head even in the darkest of moments. It was rare that a day would go by when David would not laugh at something he found amusing in the world around him.
David's daughter Karlie has fond memories of dancing on her Dad's feet, going to the zoo, his fun loving nicknames for her, as well as his roasted chicken dinners and watching him interact with his grandchildren who were always excited to see "Grandpa Dave."
David is preceded in death by his brother Collin, and survived by his parents and siblings; Mary, Stephen and Jonathan. David is also survived by his daughter Karlie Jade Bibler and his Grand-children Zoey Susan Lynn Snyder and Wyatt Alan Snyder. Due to the Covid virus there will be no service held at this time. Celebration of David's life will be held privately and separately.
David's family had previously set up a scholarship fund in his brother Collin's name, to help students who are struggling with mental illness return to college. David would have wanted any donations to go towards this fund. Please consider supporting the scholarship fund in David's memory. Donations can be made via the following link, or mailed to:
Collin Bibler Memorial Scholarship
College of the Redwoods Foundation
7351 Tompkins Hills Rd Eureka, CA 95501
###
The obituary above was submitted on behalf of David's family. The Lost Coast Outpost runs obituaries of Humboldt County residents at no charge. See guidelines here.