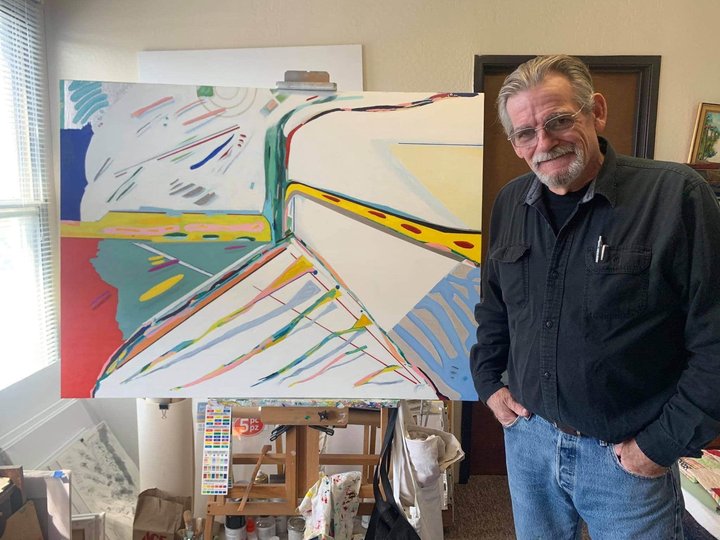 James Stephen "Steve" Wallace, an artist and resident of Humboldt County since 2014, died July 30, 2020 at the San Francisco VA Hospital, a few weeks after being diagnosed with lung cancer.

Steve was born on July 21, 1952 and lived as a young child in Corpus Christi, Texas. He later lived in Mission, Texas, Redondo Beach, California, and Bountiful, Utah, before returning to Corpus Christi as a young adult. When Steve was denied Conscientious Objector status despite his being a committed pacifist, which he would remain for the rest of his life, he was prepared to go to prison for his beliefs. He instead joined the US Navy in 1972 with the agreement and courageous insistence that he would not handle weapons of war. Steve served proudly and found a true home in the Navy that was more than just bombs and bullets. His performance reviews noted he completed his deck, watch, and ship maintenance duties well and became "one of the most dependable, experienced seamen" who was "well-liked throughout the crew." He transferred to the Reserves in 1975, and was honorably discharged in 1978.
After his release from active duty, Steve studied at the San Francisco Art Institute, then painted when he had time while he worked in Central Texas and Little Rock, Arkansas. In Humboldt County, he robustly embraced his beloved art vocation full time. He enjoyed sketching and painting in many settings: in classes with other artists, in his homey D Street apartment studio in Eureka, on the streets, and outdoors in the unsurpassed beauty of the region he took into his heart. He kept his brushes and sketchbooks close at all times. His paintings have graced walls in private homes, in the Humboldt County VA Clinic, and at the Veterans Resource Center. Several of his drawings were printed in the Humboldt Edge. Other works had been chosen for possible display in a pending statewide Veterans Arts Project.
Steve lived by his personal integrity, love and empathy for fellow humans, and dedication to his own and others' art in all forms. He enjoyed good relationships with family and friends, travel, humor, intellectual stimulation, history, and old movies. He often spoke of his gratitude that the "Great Almighty" guided his life and met his humble needs. Steve dedicated much of his heartfelt energy into standing against the suffering caused by social injustices.
He is loved and missed by close and extended family as well as longtime and recent friends. He donated his body to medical research; his ashes will be scattered at sea in San Francisco Bay, by the city that helped shape his artistic gifts as a young man.
He repeatedly expressed appreciation for the competent, caring services and healthcare provided by the Veterans Administration in Arkansas and California. The compassionate hospice staff in the SFVA provided Steve a safe, comforting waystation before his spirit returned to the Source to continue his journey in eternal love. Godspeed.
Celebration services for Steve's life are unplanned due to Covid-19 restrictions and cautions. Those who love Steve are encouraged to hold their own memorial rituals to honor him.
###
The obituary above was submitted on behalf of Steve's loved ones. The Lost Coast Outpost runs obituaries of Humboldt County residents at no charge. See guidelines here.