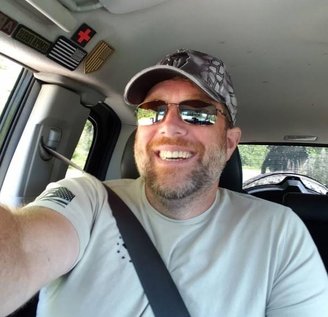 On the evening of July 23, 2020, just three short days from John Karl Sieger's 52nd birthday, he made a decision that he could no longer live in pain. We are saddened by the events leading up to him ultimately losing his battle with PTSD. John was so much more than those few hours. He was a son, a devoted dad, husband, brother, uncle, cousin and friend to everyone that he met.
John wrote the following about his life:
I was born in Washington, DC on July 26, 1968 and then raised in California. I got the idea being a US Marine would be a good idea after my sister, Lynda, just did it. I joined the USMC at the ripe age of 16, finished high school, waited for my 18th birthday and then I was soon off to boot camp (September 8th, 1986).

1986-1987: NBC defense school, advanced instructor course, multi vehicle training, then off to the Fleet.

1987: Camp Geiger, NC. NBC Defense school training. Training recruits up to officers at one of the largest Marines bases along with others (Cherry Point, Camp Lejeune and Camp Geiger). Two PFCs, one LCPL, and a CPL formed the NBC Defense School staff.

1987-1988: After local recognition in The Globe, I was moved to Camp Lejeune to take over the daily operations of the Advanced NBC Combat Course. Here a sergeant and I ran gas chamber operations Monday, Tuesday and Wednesday. Thursday and Friday was for advanced training which usually was EOD or Force Recon.

1989: After a few accommodations I was personally asked by the Base Commander to join a MSSG. At this time there were less than 275 Nuclear Biological Chemical Defense Specialists (5711) in the entire US Marine Corps. Three units later and two-and-a-half Mediterranean Floats, I was back in the states with injuries.

During the years of 1991 and 1994 I was in two helicopter crashes and one vehicle collision causing severe injuries: Traumatic brain injury, both sides of jaw broken, right ear drum damage, two fractures in neck, compound fractures and bulging discs in 4 locations down my spine, a dislocated left hip, and blown out left knee. After a total of six weeks in hospitals I was back teaching NBC Defense. The Marines kept patching me up and giving me the option to stay in. Of course I wanted to stay in so I pushed through the daily pain while being prescribed tons of Ibuprofen and Vicodin.

1994: the President at the time figured it would be a good idea to reduce forces so they flagged most NBC Marines for review. I, with all of my luck so far, was fortunate enough to be placed on such list (sarcasm). Once they looked into my records I was placed on medical hold and given an "early" Honorable Discharge under medical. One year and seven months later I was actually discharged. The entire time I was on "medical hold" so I wasn't allowed to do ANYTHING that could do "harm to me"… pfft. No running, working out, NOTHING! For a Marine you might as well lock him up.

Skipping through some time…. (First wife, first son, crappy job…) and past some issues…

1996: Relocated to northern California (Manila) where most of my family lives close. I began a new life up here raising my two sons and being a working married guy in a local sawmill pulling green chain. I can honestly say my ex-wife must have went through hell with me since I always pushed the envelope to see just how far I could push it. Riding nearly every day possible on motorcycles, ATVs, trucks… anything fast and dangerous!

How is it the Marines say I am broken yet I can do this… or this… or….. Oops, I can't do that.

Fast forward to now… re-married to an incredible woman and I live with chronic pain every second of my life. I now only use herbal supplements and CBD drops. I have never felt this good since my accidents. Endless energy, controlled pain, and my memories are coming back in full force!!!
Unfortunately, those memories caused John a lot of pain and anguish in the form of PTSD that he struggled with. But more often than not, he would put on a brave face for his family and friends and try to make us laugh.
John had a close group of friends throughout different parts of his life: Chris Freitas, Kevin Masters, Mike Settles and John Robinson to name a few.
After leaving the military, John had two amazing boys Tyler and Trever that he loved to take hunting, fishing, trips to the snow and riding anything that would scare the crap out of their mother. He adored his boys, and was always very proud of their accomplishments. He often referred to his nephew, Andy Masters as his third son as Andy and his youngest son Trever are the same age.
When John met Ashley, she brought out his crafty side. She is a very talented artist and he encouraged her in all of her endeavors. He loved photography, and was quite good at it.
John and Ashley were introduced to Pokemon Go by Andy. John became hooked! He would often go to Pokemon raids, community day events or just go out trying to catch a "shiny" in his backyard as it was a local Pokemon stop. The family would sincerely like to thank this group for the memorial they placed in his honor and the comfort that it is giving his wife.
John was constantly working on a "project." It helped to occupy his mind, made him feel like he had a purpose and helped him to focus on something other than the constant pain and haunting thoughts that ran through his brain on a regular basis.
The past few years was hard on John, he almost lost his wife and through a sheer miracle, Ashley received a transplant which saved her life. He had pulled back from his family and spent time working on projects and taking care of his household. We understood that he needed space and all thought that we had time. Unfortunately, we were wrong.
John is survived by his parents: James and Betty Wagy. Wife: Ashley Sutherland Sieger. Sons: Tyler and Trever Sieger. Siblings: Lynda Warren, Mary Masters, Melissa Wagy, Daniel Sieger, Richard Sieger, Daymon Sieger, Robert Wagy, Jaime Wagy, Nicole Sieger and their respective families, as well as many other family members and those that John considered like family that are both local and scattered about the world.
John was very proud of and respected the uniform, the flag and the military. We ask that you don't use his name or the events that ended his life as a platform to promote Hatred and hostility as that is not who John was. We are all still processing the loss of our husband, son, dad, brother and uncle through such a traumatic event. We loved John unconditionally and will always love him. May he have the peace that he deserves as he continues to watch over his family from above.
The family will have a private service and celebration of life at a later date due to COVID-19 precautions.
###
The obituary above was submitted on behalf of John's loved ones. The Lost Coast Outpost runs obituaries of Humboldt County residents at no charge. See guidelines here.