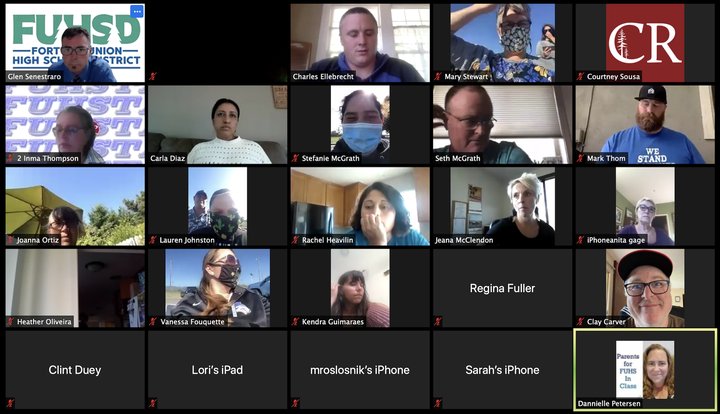 At the conclusion of an over three-hour emergency meeting Friday night, the Fortuna Union High School District Board of Trustees opted to stand by its earlier decision to open its schools this coming Monday, Aug. 10.
The decision comes after a contentious week of lengthy negotiations between the school administration and the Fortuna Union High School Teachers Association that, this morning, resulted in the scheduling of tonight's last-minute Zoom gathering to review the board's previous vote.
The meeting featured passionate public comments from numerous speakers on opposite sides of the argument over whether students are returning to school too quickly in the midst of a global pandemic. The vast majority of those pushing to start school this coming Monday were parents, many of whom gathered in solidarity at a social media-organized rally in the Newburg Park parking lot where they lined up to take turns Zoom-addressing the board via a single phone.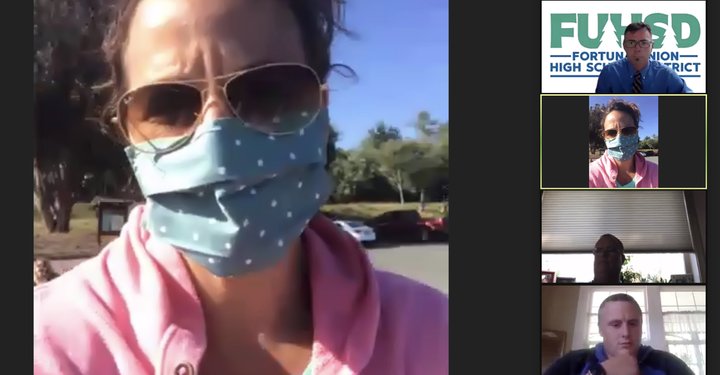 Some parents spoke of frustration over the lack of respect they felt they'd been granted during this whole process. Angela Johnson said her child is "excited" to start their freshman year at FUHS this year. She praised the board for their work in prepping for the coming year under unprecedented circumstances but was critical of the tone she'd heard in recent board meetings.

"What I'm most upset about as a community member is the lack of respect and compassion that has come from some of the teachers and people in this meeting," Johnson said, adding that this is the fifth virtual meeting she'd attended this week. "There have been many students on these Zoom meetings and, as educators, our youth are looking to you as examples — looking to see how you handle yourselves when you disagree with someone, how you can disagree with someone but still be respectful. From the examples I've seen over the last few weeks, we're not educating our children and showing them the values that we should be."
On the other side, nearly all of the teachers who logged on asked that the board push back the start date for in-person instruction. Many expressed safety concerns while others asked for more time so that they could better prepare to teach under drastically different circumstances.
One teacher who spoke out was Kim Peterson, himself a Fortuna High School graduate, who has taught for the last 37 years. Peterson voiced dismay over how quickly teachers were being expected to adapt to a new system — the board's vote to open school Aug. 10 took place a little over a week ago, on July 28.
"It takes a lot of work. It takes a lot of effort," Peterson said. "If you just want us to show up, hand out some worksheets, just say, 'Do something,' then we can do that. But I would say every teacher there wants to have the best education for your children. To all of us, whichever side you may be [on], respect your teachers because we've done a heck of a lot over the years. We're one of the greatest schools around and I'd like to keep it that way."
After a closed session period the public meeting resumed. After some discussion about potential staffing issues and the schools' potential exposure to future COVID-related lawsuits, Fortuna Union High School District Board of Trustees President Charles Ellebrecht said that opening Fortuna schools "is a risk I myself am willing to take" before defending his position further.
"To quote the CDC, 'Aside from a child's home there is no other setting which has more of an influence on a child's health and wellbeing than their school'," Ellebrecht read. "The in-person environment does the following: provides educational instruction; supports the development of social and emotional skills; creates a safe environment for learning; addresses nutritional needs; and facilitates physical activity."
Ellebrecht also cited the American Association of Pediatricians to argue that delaying school would only worsen students' situations. As for staff safety, he hoped that teachers and administrators would work together to make this as smooth a transition as possible.
"Obviously, we have some teachers that have brought notes from their doctors. I understand that. I respect that. It's my personal opinion, again, that you can find a doctor to get you whatever you want. I think that contributes to our opioid crisis we currently have."
Ellebrecht's final comments concerned the week's negotiations with the teachers' union, and he closed with a passage from a piece he recently read in the Wall Street Journal.
"'The phrase for this is political extortion," Ellebrecht recited. "Rather than work to open schools safely, the unions are issuing ultimatums, making threats until they get their political and ideological wish list. Children who have to endure more lost instruction are simply their hostages.' And that is how I feel. I'm not in support of postponing anymore. I think the teachers and staff, we need to work together to come up with a solution. It's going to be difficult. It's going to be rough. Monday's probably going to be a mess. I don't know that postponing school for a week, two weeks, three weeks, four weeks, even months is going to solve the problem. These kids need to be back in school. That's where they belong."
At the conclusion of Ellebrecht's statements, school board member Anita Gage made a motion to delay the start of classes an additional two weeks so that students and teachers could better prepare for school in the COVID era. No other board members seconded, so the board's previous vote stood.
In Fortuna, school starts Monday.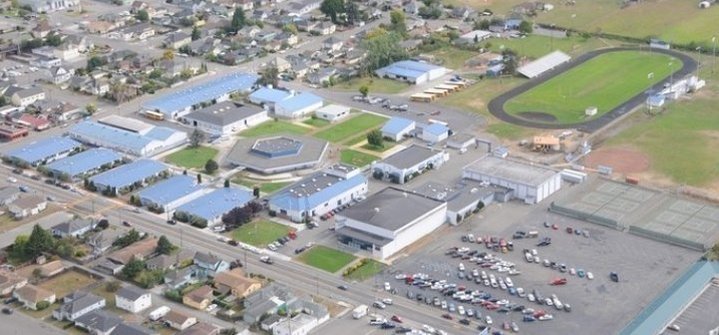 PREVIOUSLY: