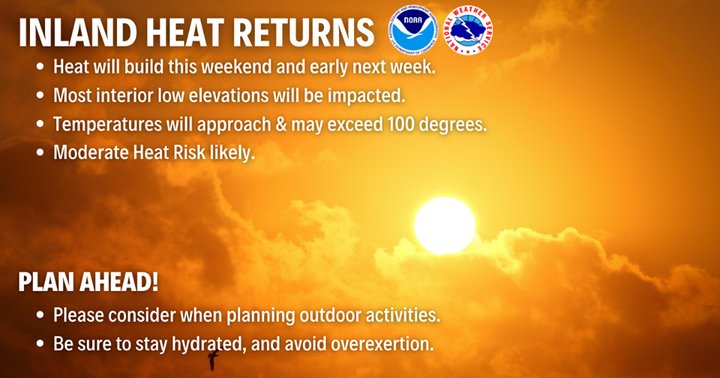 The Summer of 2020 looks ready to reassert itself with force next week, as a big blast of solar radiation prepares to griddle residents of the interior areas.
How hot will it get? As of this writing, Hoopa is forecast to reach 104 degrees Sunday. Redway is looking at 99. Even Eureka is looking to reach up into the high 60s most of the week — balmy!
As our friends from the National Weather Service's Woodley Island HQ explain below, this is all a result of a high-pressure system developing over the region. Coastally speaking, the marine layer — that thick blanket of fog we lowlanders live underneath — looks to be "shallow and weak" throughout much of the coming days, for whatever reason.
One programming note: If your favorite swimming hole is Big Rock Recreation Area, right out of Willow Creek, there, then you should make other plans. That place is currently closed, as firefighters working the Red-Salmon Complex are using it as a spot to fill up their helicopters' buckets.
From the Woodley Island office's most recent Area Forecast Discussion, published this morning:
Temperatures begin to gradually increase across interior areas today through early next week as high pressure builds aloft. While near seasonal average temperatures are expected today, by Sunday afternoon temperatures are likely to climb to between 100 and 108 degrees across many interior valleys. The warmest temperatures are likely to occur across the Trinity River Valley, eastern portions of Mendocino county and much of Lake county. Heat is likely to peak Sunday and Monday, but temperatures will remain above seasonal averages Saturday through at least Tuesday. A changing pattern will likely bring a modest cooling trend Wednesday through the end of next week.

Between Sunday and Monday, current model guidance is indicating a weak cutoff low located off the central coast of CA lofting moisture up the Sacramento valley toward the eastern edge of Trinity county, bringing with it weak instability and the return of slight thunderstorm chances for interior mountains. Inconsistencies between models continue to leave uncertainty high, but if convection does spark up, the usual mountain ranges of Trinity County currently look to be the most likely areas to see isolated storms, particularly during Monday afternoon and evening.

Along the coast, mild conditions continue through the week, although a much shallower and weaker marine later will allow for sunnier skies. While some shallow stratus and fog may develop in places during the overnight periods, particularly in the vicinity of Humboldt Bay, marine clouds are likely to be less widespread and quicker to burn off during the day.