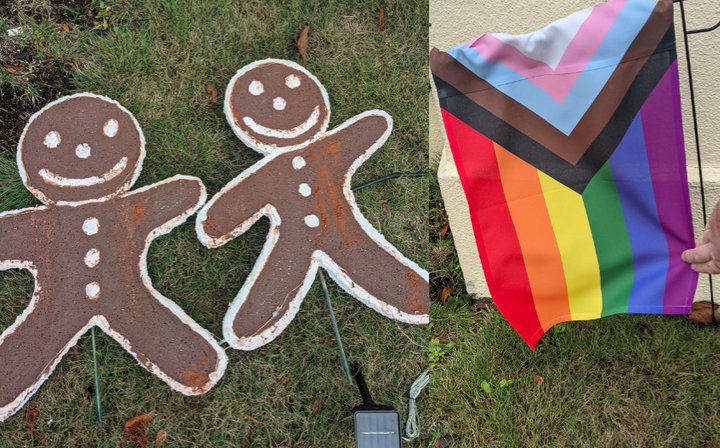 ###
On Wednesday morning, Brian Kleinmeyer walked out to the front yard of the Myrtle Avenue home he shares with his boyfriend, Daniel Kain, and noticed that the gingerbread men in their elaborate Christmas yard display had been pulled from the ground and placed beneath their nearby pride flag. Closer inspection revealed that the handmade decorations had been smeared with feces.
"They literally ripped them out of the ground, and wiped their asses with them, and carefully laid them at the base of our Pride Flag," Kleinmeyer wrote in a Facebook post. "I thought things might get stolen, but never in a million years did I think this would happen. I'm completely in shock."
The Eureka Police Department is now investigating the incident as a hate crime.
###
Speaking with the Outpost Thursday afternoon, Eureka Police Chief Steve Watson said an officer was dispatched to the scene for investigative purposes after Kleinmeyer reported the incident, and once the evidence was gathered, the suspect's (or suspects') intentions were unmistakable.
"It's very clear in my mind this was a deliberate act based on the suspect's perception of [the victims'] sexual orientation," he said.
Describing the crime as an "absolutely horrendous and appalling thing," Watson said the investigating officer will follow up with a criminal report for a hate crime under California Penal Code 442.6(b). Under state law, a hate crime is defined as a criminal act committed, in whole or in part, because of the victim's disability, gender, nationality, race/ethnicity, religion or sexual orientation.
If convicted of this crime, the suspect would face up to a year in jail, a fine of up to $5,000 or both.
In a message to the Outpost, Kleinmeyer said this is actually the second time in the past two weeks that his and Kain's Christmas decorations have been vandalized. "The first time they broke a Santa sleigh in half and tangled up a bunch of my Christmas lights," he said. Regarding the latest crime, he added, "Something about two Gingerbread Men holding hands just pushed them over the edge, I guess."
While the incident took him by surprise, Kleinmeyer said he felt compelled to speak up about it. "I just want to make sure that this doesn't happen to anyone else or, if it already has, that they feel empowered enough to speak up about it," he said.

Watson said he called Kleinmeyer and Kain personally Thursday morning.
"I just wanted to reassure them that the city manager and I, the council — that EPD and the city has their back," he said. "This kind of hate is not going to be tolerated. We'll throw every resource we have into identifying, pursuing and arresting whoever's responsible, as well as working with the District Attorney to make sure they're prosecuted to fullest extent of the law."
Watson believes that hate crimes, such as the "white youth" recruitment flyers posted in Eureka last year, go underreported locally, much like domestic violence, because people are sometimes afraid to come forward.
"I still want to believe that … the overwhelming majority of Humboldt County residents are welcoming, accepting people," he said. "But we can't stick our head in the sand, because we know there are many people who live in fear of racism and hate."
He mentioned this past summer's Black Lives Matter protests as evidence of those experiences.
The Eureka Police Department is asking for the public's help in identifying anyone who might be responsible for this or any other hate crime, Watson said.
This afternoon, as the Outpost was messaging back-and-forth with Kleinmeyer about this experience, there was a new development.
"Daniel just came home and says he ran into Chief Watson today," Kleinmeyer wrote, adding, "He gave us these amazing cookies."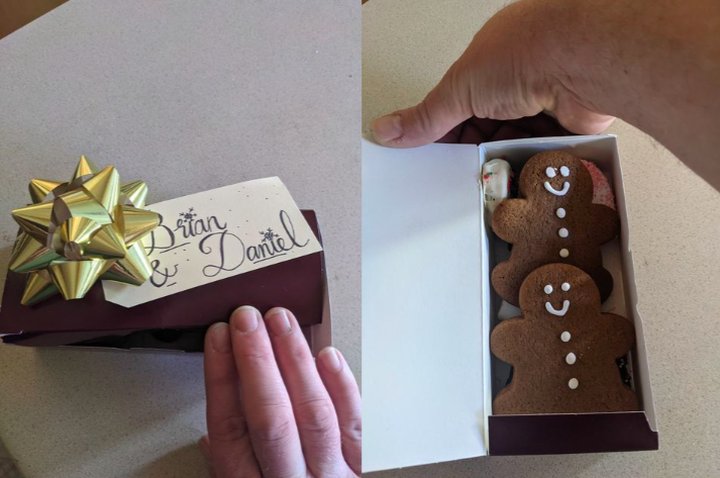 ###
His next message read, "I'm not going to lie, I didn't cry over our decorations being vandalized, but I did from the kindness we have been shown since it happened. I'm completely blown away
"
Below is nighttime footage of the Kleinmeyer-Kain Christmas decorations, pre-vandalism.