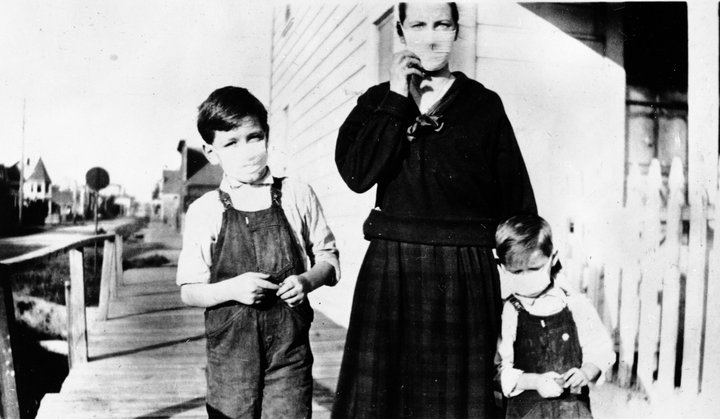 ###
If you're a fan of local history and you still haven't got yourself a 2021 wall calendar, don't worry! Six Rivers Charter High School has gotcha covered.
Students there recently completed their historical calendar project, which features old-time photos of local landmarks side-by-side with current snapshots of the same location, plus facts about the site's history. Despite unusual virus-y circumstances, seniors and project directors Emma Scott and Isaac Wilson managed to pull it together, marking the fourth year in a row that Six Rivers has produced a calendar.
The two started the project in September, choosing local photos from the Humboldt State Special Collections, researching the photos' histories courtesy of local museum websites, and often personally capturing a modern image of the landmarks they chose to feature. Wilson, who likes history, handled the research, while Scott took on the photography.
One page in particular highlights the very historical time we are living indeed. It's an image of a 1918 Flu pandemic-era family, masked and standing on an Arcata street corner. Scott and Wilson posed for the re-creation image themselves, also masked and standing on the very same corner.
Scott's favorite page is of Humboldt's Coast Guard station, and Wilson likes the month about Trinidad's 1920s-era whaling station 'cause the history is interesting. (Despite promises that the station would be sanitary, it turned out to be a putrid disaster and had to be shut down not long after it opened.)
Six Rivers Principal Ron Perry said in a press release that he's proud of the students and their creation. "The calendar is an example of the sense of interdependence Six Rivers hopes to foster in our students," he said, stressing that a lot of support for the project came from local businesses and community members.
It was difficult to complete the project virtually, Scott told the Outpost, but ultimately, "it was really cool to learn about these things that I had no idea happened."
And you, too, could learn such things. The calendars, which cost five dollars, have been distributed to local businesses, including A&L Feed, Coast Central branches, Pierson's, Sunnybrae ACE, Wildberries and the Grind Cafe. All proceeds go toward Six Rivers student activities. You can also snag one from the Six Rivers site itself, by calling 707-825-2428.