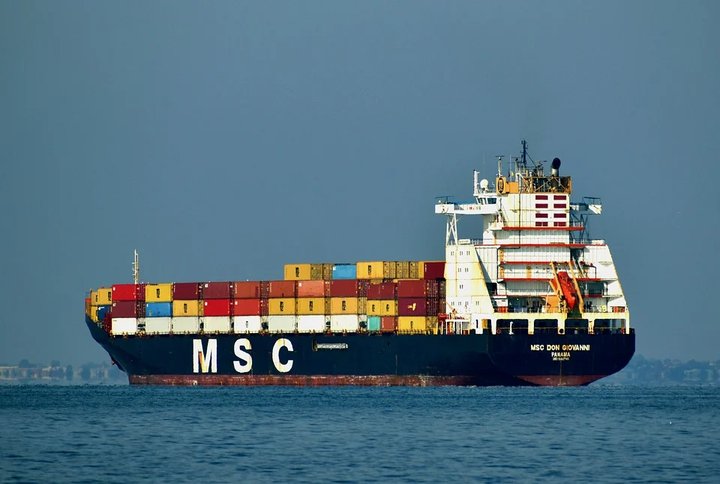 ###
Last Wednesday, shortly after 1 p.m., the Portuguese cargo vessel MSC ROMANE was chugging northbound through a shipping lane 30 miles off the Humboldt County coast when half a dozen 40-foot shipping containers tumbled overboard, splashing into the sea below.
On Tuesday, six days after the containers took their unsanctioned dive, Humboldt Harbor Safety Committee Chair Leroy Zerlang received an email from the supervisor at the U.S. Coast Guard's Sector Marine Safety Detachment Humboldt Bay alerting him to the situation and giving the location of the spill.
"The containers are presumed to be still floating," Chief Warrant Officer Adam Shilts told Zerlang in the email.
Reached by phone on Wednesday, Zerlang said this was a first for him. "You hear about it happening all the time, but this is the first time I've heard about it happening in this area," he said.
The MSC ROMANE is a massive vessel — nearly 160 feet wide and 1,000 feet long with a carrying capacity of almost 5,000 of those 40-foot shipping containers. So losing just six represents a relatively small spill, but Zerlang said they could cause big problems.
"We have lots of concerns," he said. "We don't want anybody to run into 'em. And if [the containers] do sink, we don't want them to interfere with anybody fishing out there, where their gear gets caught on it. … They don't want to lose their $100,000 net."
The floating metal boxes could also impact wildlife. Coast Guard Lt. Stephanie Cardenas told the Outpost that one of the agency's units is still working to determine the contents of the containers, though she said the Coast Guard has confirmed that they weren't carrying any hazardous materials or pollutants.
The last update came on Saturday. "The Coast Guard did a flyover and found some debris in the area," Cardenas said. But no sign of the containers.
"Last I heard was that they were still floating," Zerlang said, "but none of the boats I'm in contact with have seen 'em."
The email he received on Tuesday said the containers may be on the move. "Weather and current analysis shows the most likely drift would be to the south," the message read, adding a parenthetical: "(this is only assumed not verified)."
Keep your eyes peeled, seafarers.
###
Approximate location of the dropped shipping containers.