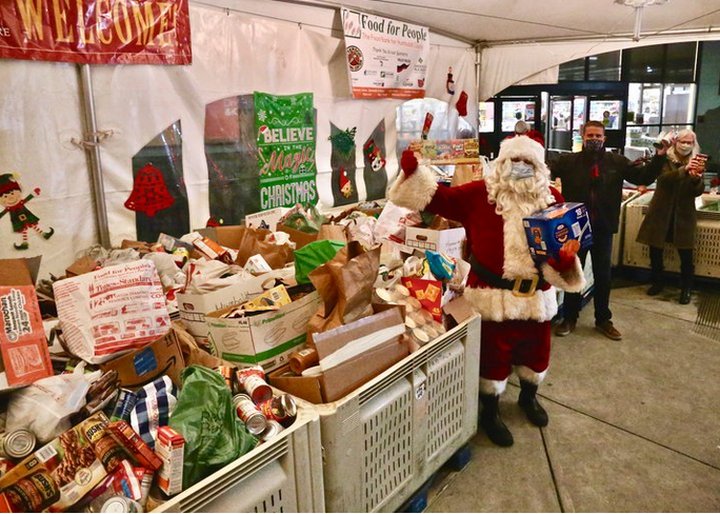 A lot has changed this year and although indoor gatherings are not on the table, many of our local nonprofits are making sure that folks in need will still have access to a free meal over the holidays. And with an extra need for access to free food this year, many of these organizations are also looking for donations or volunteers.
So whether you are in need of a meal, or wanting to help others, here's a list of the places in Humboldt that will be supplying free food this Christmas season.
St. Vincent DePaul — 35 W. 3rd Street, Eureka
Free Christmas meal starting at 11 a.m. It is rumored that Santa Claus will be in attendance.
Humboldt Center Area For Harm Reduction (HACHR) — 1522 3rd Street, Eureka
HACHR will be serving a free meal beginning at 11:00 a.m. on Christmas Eve, Thursday, Dec. 24. Food will be first come, first served and will continue until the food runs out. So, make sure to get there early! Participants can line up outside to be handed a hot meal in a prepacked container.
HACHR Executive Director Lasara Firefox Allen wanted to mention that the free meal is available to anyone in need, and they do not need to be a regular recipient of HACHR's services.

If you're looking to help out, HACHR is accepting donations and is in need of blankets, sleeping bags, camping gear, grab-and-go food items, drinks (sports drinks, water, juice), socks, underwear, and warm clothing items.
You can drop off donations at the Third Street center on Christmas eve or during any of HACHR's regular hours: Mondays 11:00 a.m to 1:00 p.m., Tuesday's and Thursday's from 10:00 a.m. to 2:00 p.m.

Eureka Rescue Mission — 110 2nd Street, Eureka

The rescue Mission will also be serving free meals on Christmas Eve from 12:00 to 2:00 p.m. Food will be served to-go for folks to eat outside.

The mission is also giving out 100 food boxes this year, which will include a turkey or ham, some mashed potatoes, gravy packets and some other holiday items. To reserve a food box, call 707-443-4551.

As always, the mission is accepting food donations at its Second Street location, open 24 hours a day. To donate, simply show up, or you can call the above number for more information.

Fortuna Veterans Hall — 1426 Main Street, Fortuna

The River Life Foundation will be holding its annual free Christmas feast on Friday, Dec. 25 from 1:00 to 3:00 p.m. This year food will be served drive through style, with prepacked meals including roast beef, turkey, scalloped potatoes, green bean casserole a roll and Christmas cookies!

Need your meal delivered? The foundation will also deliver to residents within the City of Fortuna. To arrange a delivery call Ginny before 1:00 p.m. on Christmas day at 707-601-6526.

And if you're looking to lend a hand, River Life is taking volunteers to help serve or drive deliveries. Cal Ginny at the above number to volunteer.

Food For People — Eureka, Arcata, Blue Lake

The Eureka food pantry — 2112 Broadway — will be open for regular food box distribution on Wednesday, Dec. 23, from 11:00 a.m. to 3:00 p.m., but will be closed on Christmas Eve and Christmas Day. Food boxes will include extra holiday goodies, including a turkey, chicken or ham and some folks will receive $25 gift cards to local grocery stores (while supplies last.)

The Arcata pantry at the Trinity Baptist Church — 2450 Alliance Road — will be open and providing the same service on Wednesday from 3:00 to 6:00 p.m.
Food for People's mobile produce pantry will also be open on Wednesday from 10 a.m. to 2:00 p.m. at the Blue Lake Community Resource Center — 111 Greenwood Ave, Blue Lake.

If you would like to donate non-perishable items to Food For People, there are donation barrels at Eureka Natural Foods and the Eureka and Arcata CO-OP. Donations will be accepted through the end of December.

Betty Kwan Chinn Foundation — 133 7th St, Eureka
The Betty Chinn Foundation has already been so busy this week, distributing 300 food boxes on Monday and handing out free toys on Tuesday, and this nonprofit will also be cooking a free prime rib dinner for those in need on Christmas Day.

If you need a meal, call the foundation at 707-407-3833 by noon on Christmas, and Betty Chinn will take care of you.

"No one should go hungry" Chinn told the Outpost.

###
If you know of somewhere we missed, feel free to email the information to news@lostcoastoutpost.com