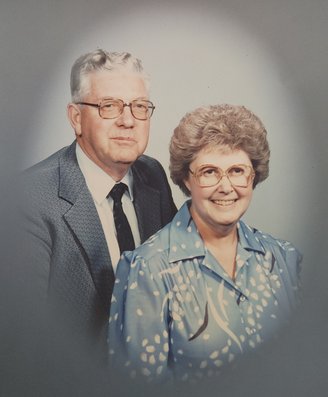 Neville Arthur Price was born on August 16, 1929, in Berkeley. When he was 9 years old the family relocated to Angwin, Calif. where his mother attended Pacific Union College. Then, in 1942, they moved one more time to Eureka.

Other than time spent in army medic training at Fort Sam Houston, Texas and time served as a medic in the Korean War, Eureka was his home for the remainder of his 91 years.
Eureka introduced him to the love of his life, Dorothy Klemp Price. They met in his mother's classroom at the Seventh-Day Adventist Church School on F Street at 12 and married at 21. They bought a house on E Street in 1950, where they lived for the rest of their lives. Over the 71 years at the end of E Street, neighbors became family. They called him the Dad of the neighborhood.
Neville spent 28 years working for Arcata Redwood Company, first as a forklift spotter then working his way up the ladder to become superintendent of Brainard Mill as a production coordinator. He was very proud of his company and even more proud of the men he worked with. Several of the old crew had been getting together once a month for breakfast. Charlie Peterson said they enjoyed telling stories of the glory days working and sometimes fishing together. The stories tended to grow a little at each telling.
After retirement in 1992, Neville began to do more volunteer work at the Seventh-Day Adventist Church Camp Meeting in Southern Humboldt. Untold hours over nearly 40 years at the camp kept him busy most of the year. Ted Calkins, camp director for 17 years, recalls on evening as the sun was setting and everyone was ready to call it a day. Neville said, "Let's get this finished. You stand down there with this flashlight and I'll keep digging (with a rented ditch digger) until I reach you." He didn't want to pay for two days of rental charges. During the rainy months he did sign painting in the living room, until my Mother made him put it away to make room for Christmas decorations. For several years he also volunteered at the Humboldt County Library. He enjoyed driving the library van across Highway 299 to Redding and beyond for book deliveries and pickup.
Last summer we enjoyed fishing on Humboldt Bay in a (new to us) 27-foot Bayliner. We never caught anything, nor did we make it out to the ocean, but we had a lot of fun trolling around on the Bay. That is how he spent his 91st birthday with his daughter Kathy and her husband Keith, grandson Kevin and son-in-law Steve. He really enjoyed that boat, aptly named the Sea Nile.
On the day after Thanksgiving as we were gathering two at a time at his bedside to say our goodbyes I reminded my son Kolton that Grandpa used to say, "If he made it to 90 years he would feel like he had really accomplished something." He made it all the way to ninety-one and a quarter. "Of course, he did, he always pushed it past the limits."
Neville was proceeded in death by his faithful wife Dorothy Klemp Price and his son Greg Price as well as his sister Patricia Collins. Survived by his daughters Kathy Knittle, Karen Ronk and Jennie Shaw. Eight grandchildren and four great-grandchildren, so far, and his sister Glenys Lonberger.
At this time, because of COVID restrictions, we are unable to plan any services. Maybe next spring we can come together, share stories and be reminded of the profound impact he had on each of us.
###
The obituary above was submitted on behalf of Neville Price's loved ones. The Lost Coast Outpost runs obituaries of Humboldt County residents at no charge. See guidelines here.