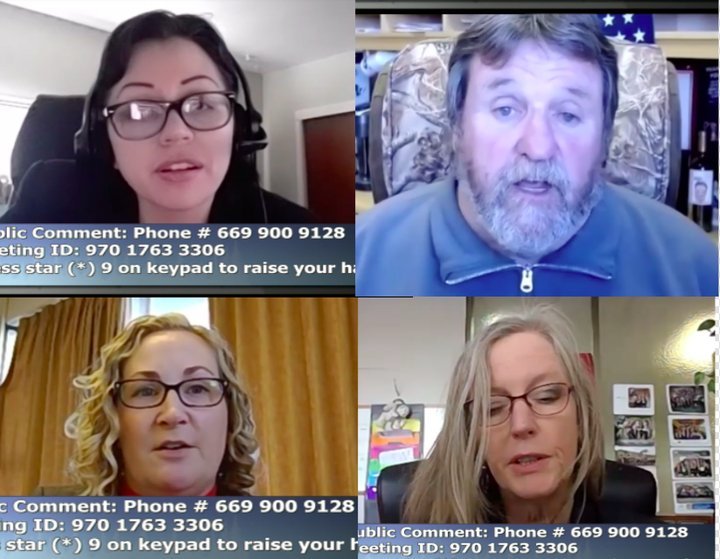 ###
CORRECTION, Dec. 5, 2 p.m.: This post has been corrected to reflect that the county's investigation is not focused on Paz Dominguez but rather on delays in payments, transfers, and reconciliations of accounts.
Dec. 6, 1:10 p.m.: We also modified it to clarify that the fiscal oversight duties that the county is considering outsourcing do not necessarily belong exclusively to the Auditor-Controller's Office. The Outpost regrets the errors.
###
The County of Humboldt has opened an internal investigation into Auditor-Controller Karen Paz Dominguez concerning delays in payments, money transfers and reconciliations of accounts, and in response Paz Dominguez is seeking representation from an outside attorney.
And that's not all! Less than two weeks after a long and contentious Board of Supervisors meeting — at which Paz Dominguez was in the hot seat over those alleged fiscal fiascos — the County Administrative Office is looking to outsource some of her key fiscal oversight responsibilities to a private accounting firm at a cost of $250,000.
Both of these hot-button items will be discussed at Tuesday's Board of Supervisors meeting.
First, let's take a look at the investigation. A staff report notes that such matters "would not typically be discussed in this public manner," but County Counsel Jefferson Billingsley wants the board to consider the practical and ethical implications of allowing Paz Dominguez to be represented by Cyndy Day-Wilson, a former city attorney for the City of Eureka who's now in private practice.
Day-Wilson recently submitted a letter asking to be appointed as counsel to Paz Dominguez. According to the staff report, the letter came in response to the county notifying the Auditor-Controller that she was being investigated asked to participate in an investigation.
The Board of Supervisors is being asked to consider whether there's a potential conflict of interest with the Office of County Counsel representing Paz Dominguez itself. The report suggests that an "ethical wall" could be established by directing an attorney within the office to be "screened off" from the rest of their colleagues while representing Paz Dominguez in the investigation.
The board is also being asked to consider whether Day-Wilson's request "is a task within the performance of the duties of the Auditor-Controller." In other words, should Paz Dominguez be expected to cooperate with the investigation as part of her job requirements?
Then there's the issue of outsourcing. The board will also on Tuesday consider a recommendation from the office of County Administrative Officer Amy Nilsen to hire Sacramento accounting firm Macias, Gini and O'Connell. LLP (also known as MGO). The quarter-million-dollar contract would be for "financial advisory services."
The CAO's office is further recommending that the county create a new position, chief financial officer, whose job would include managing the county's long-term budget preparations, among other fiscal responsibilities.
A staff report for that agenda item argues that these measures are a matter of fiscal responsibility. Referencing audit findings from the 2019-20 fiscal year, the report says that delayed reimbursements for state- and federally funded programs — which were the main focus of that grueling meeting last Monday — could negatively impact the county's credit rating and its ability to maintain services.
Given the size of the county's operating budget and staff — almost a half billion dollars and more than 2,400 employees, respectively — along with its wide array of responsibilities, the CAO's reports argues, "it is not uncommon to have a chief financial officer in an agency like the County of Humboldt."
Since that position does not currently exist, the CAO's report suggests developing it and, in the meantime, paying MGO to provide a variety of financial advisory services. The CFO, once installed, would be responsible for a long list of responsibilities that have significant overlap with the current duties of the Auditor-Controller. Those duties would include (from the staff report):
the direct management and coordination of the county's long-term budget preparation process, including development of internal service fund charges; overseeing the county's fiscal monitoring and control, revenue projection and analysis, debt management activities; developing long-term fiscal forecasts; recommending fiscal policies to the Board; reviewing and analyzing the fiscal impact of proposals or projects, and facilitating fiscal corrective action plans.
The CAO's report also recommends employing MGO to help the Human Resources Department conduct a staffing study, analyzing the employee needs of the Auditor-Controller's Office.
Last week, supervisors Rex Bohn and Virginia Bass, who serve as the board's budget ad hoc committee, brought forward urgent concerns about delayed payments, late fiscal reports and looming deadlines that they said were threatening the operations of various county departments, special districts and local vendors.
Over the course of about seven hours, the board sought to mediate a dispute that repeatedly saw Paz Dominguez at odds with Nilsen regarding the county's financial management.
Paz Dominguez has been arguing since before her election in 2018 that the Auditor Controller's Office is critically short-staffed. At last week's meeting she said her staff has done its best to keep up with the workload while ensuring that charges are properly substantiated in compliance with state law.
The meeting ended with a negotiated agreement, of sorts, with county supervisors agreeing to share responsibility for the accuracy of reports to the State Controller's Office while Paz Dominguez agreed to put a rush on closing out last year's books for the Public Works Department, which was up against a serious deadline.
Reached by phone Friday afternoon, Paz Dominguez said the proposal to hire MGO appears to be a repudiation.
"My opinion is that, yes, it is seeking to outsource my function," she said, though she added that she can't be certain of the report's intent without hearing directly from Nilsen — or from the county supervisors, saying they directed Nilsen's actions.
She questioned how the county can afford $250,000 to employ an outside accounting firm yet doesn't have the funds to hire the staff she's requested. And as for establishing a chief financial officer, she said, "I would ask people to consider that [the county] had the option to institute a department of finance and a director of finance … and the voters said, 'No thank you.'"
In 2016, the county put a measure on the ballot, Measure Q, that would have consolidated the offices of Auditor-Controller and Treasurer-Tax Collector into the Office of Director of Finance. At the time, Nilsen argued that this office would improve efficiency, offer more opportunities for employee cross-training and allow for better succession planning.
Treasurer-Tax Collector John Bartholomew and former Auditor-Controller Joe Mellett argued against the measure, saying their respective jobs require distinctly different skills and experience.
An accompanying measure, Measure R, asked voters whether the Director of Finance should be an elected or an appointed position. But Measure Q failed, 53.76 percent to 46.24 percent, rendering Measure R moot.
"Yet here we are today, pushing forward to get a chief finance officer that performs the functions of the Auditor-Controller, and putting [the position] under the CAO's direction," Paz Dominguez said. "Who asked for this?"

Regarding the internal investigation, Paz Dominguez said she didn't want to get an outside attorney but that Billingsley said he couldn't advise her in the dispute. A voicemail left with the County Counsel's Office was not returned before publication time, though it was after 5 p.m. when the message was left.
###
PREVIOUSLY: